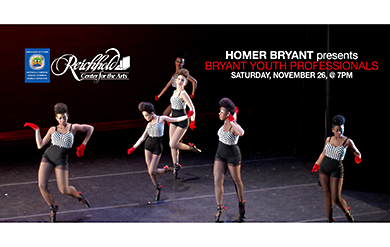 Join the Virgin Islands Council on the Arts (VICA) and Reichhold Center for the Arts in welcoming home Homer Hans Bryant and the Bryant Youth Professionals Dance Company at 7 p.m. on Saturday, Nov. 26.
Enjoy a night with your family and ours as the Bryant Youth Professionals perform contemporary ballet and the newest dance craze, Hiplet™. This fresh dance style, created by Bryant, fuses urban dance moves with modern and classical ballet. Bryant created Hiplet to make ballet more appealing, by mixing it with current popular songs that will be familiar to audiences who don't normally attend ballet performances.
"Homer Bryant is not just a VI Ambassador, but an icon whose impact has been felt across the globe," said Denise Humphrey, Reichhold Center interim director. "This performance is in honor of him, the VICA and the great work they do in impacting the lives of students here and abroad." 
As one of the first recipients of a VICA individual grant award, Bryant used this support to further his training and became a principal dancer with the world renowned Dance Theater of Harlem. His professional credits span from a command performance for the Royal Families of Norway and England to the motion picture "The Wiz," which starred Diana Ross and Michael Jackson.
"On behalf of VICA's Board and staff, we are honored to have Homer Bryant and his company perform for the Council's 50th anniversary," said VICA Executive Director Tasida Kelch.  "Bryant is a true testament to the talent of Virgin Islanders. He is a perfect example of what investing in the arts can accomplish." She continued, "VICA celebrates 50 years of investing in our arts and culture and we look forward to another 50 years of wonderful collaborations with the Reichhold Center for the Arts and the community."
Bryant has been changing lives through dance for 25 years, by providing a safe and welcoming environment for students of all abilities and socioeconomic backgrounds to pursue serious dance training. Because of his love for dance, Bryant's core mission is to bring opportunities for dance training to all of Chicago and the world. In 1992, he founded the Bryant Ballet School, which was later renamed to the Chicago Multi-Cultural Dance Center (CMDC) to reflect the diversity of dance and the student body. Bryant and the CMDC students have the privilege of being a part of the first White House Dance Series in 2010, which honored Judith Jamison. In 2011 he was appointed to the City of Chicago's Advisory Council on Cultural Affairs and Special Events where he still serves.
The Reichhold Center's 38th season is sponsored by International Capital and Management Company, VI Lottery, Innovative, Marriott Frenchman's Reef Resort, FirstBank and the VI Council on the Arts. As well as event sponsorship from TIA Associates and BVI Tourism. The Reichhold Center for the Arts is the flagship performing arts center for the University of the Virgin Islands.