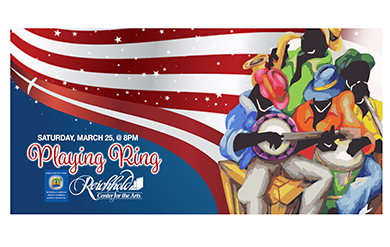 Join the Reichhold Center for the Arts on March 25, for "Playing Ring: Tea Meeting," an original performance art project that explores the culture and history of the US Virgin Islands through storytelling, music and dance.
"The resurrection of this award-winning series invites audience members to stroll through the unique history of the territory," said Denise Humphrey, director of the Reichhold Center for the Arts.  "Playing Ring is a great homage to the culture of the Virgin Islands."
This season, Transfer Day will be commemorated with "Playing Ring: Tea Meeting."  The script for this production hangs on the framework of a traditional St. Croix tea meeting that explores the social and cultural evolution of the U.S. Virgin Islands from before Transfer Day until now.  During intermission, a complimentary sampling of traditional treats will be served with tea. 
Playing Ring will also incorporate dance and music, to be performed by local culture bearers such as 73rd Army Band, Mungo Niles, Macislyn Bamboula Dancers, Stanley and The Ten Sleepless Knights, the St. Croix and St. Thomas Heritage Dancers, Voices of Love, Louis Ible and the Caribbean Ritual Dancers to name just a few.
"The Reichhold gates will open at 6 p.m. so patrons will have a chance to enjoy the 'Big Yard,' an assortment of cultural arts and crafts, games, food and other local activities," said Reichhold Center Marketing Manager Ian Turnbull.
Earlier on March 24, the Reichhold Center will participate in the Department of Tourism's "Fort Fete" to celebrate the reopening of Fort Christian. From 9 a.m. – 1 p.m., the Emancipation Garden grounds will be transformed into a cultural backyard dubbed "In Deh Yard."   This event will be open to students in grades two through six, and will comprise exhibits, demonstrations, crafts and games. Specific "In Deh Yard" activities will include:
Musical Instrument Making
Costuming: Quadrille Dress and Masquerade Mask-making
Traditional Dancing: Quadrille, Maypole and Bamboula 
Traditional Storytelling
Traditional Games: go-carts, wheelbarrow, hand games, circle games, marbles, Tee-Toe Tom, Maurel/Hopscotch, jump rope, top spinning, and kite making
The Reichhold Center's 38th season is sponsored by International Capital and Management Company, VI Lottery, Innovative, Marriott Frenchman's Reef Resort, First Bank, and the VI Council on the Arts. Playing Ring is also sponsored by the VI Centennial Commission.
For regular and special $15 student tickets, visit Reichhold Center's Box Office or call (340) 693-1559.  For more information on the Reichhold Center and its 38th season, or to purchase tickets, visit www.reichholdcenter.org. For inquiries about sponsorship and Stage Bill advertising, contact Ian Turnbull at ian.turnbull@uvi.edu or (340) 693-1554.
The Reichhold Center for the Arts is the flagship performing arts center for the University of the Virgin Islands.