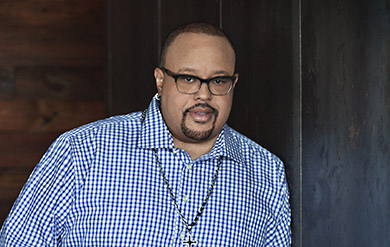 Join the Reichhold Center for the Arts for a spiritual festival with renowned songwriter, bassist and vocalist, Fred Hammond, at 8 p.m. on Saturday, Feb. 11. For more than 25 years, music lovers around the world have cherished the lyrical melodies of Hammond.  Known throughout the music industry as a gifted musical arranger and producer, he earned the title "Babyface" of gospel as founder of Face to Face Productions Corporation.
"Hammond is the third performer to grace the Reichhold Center stage as part of UVI's mission to promote spirituality and professionalism in our community," said Denise Humphrey, director of the Reichhold Center for the Arts. "Expect no less than an invigorating performance that lifts you up from your seat to praise and worship. Hammond joins the ranks of sold out performances at the Reichhold by Kirk Franklin in 2015 and Donnie McClurkin in 2016."
Originally from Detroit, Hammond began his musical career at the age of 12 by singing with his church choir. After playing bass and singing with "The Winans" during the early 1980's, he joined the group "Commissioned" where he was able to showcase his superb arranging, production and songwriting skills, along with his soaring vocals. Hammond's solo career began in 1991.  Through a long-term association with the Verity label, he embraced an in-concert feel even on his studio recordings. Much of his output, billed as solo releases or group efforts featuring the choir, "Radical for Christ," has won Dove and Stellar awards.
During his time with Verity, "Pages of Life: Chapters I & II" in 1998, "Free to Worship" in 2006, and "God, Love & Romance" in 2012, along with a few other titles, topped Billboard's gospel chart.  Hammond technically moved to RCA Inspiration following the label's absorption of Verity.  There he continued to thrive with his "United Tenors" project in 2013 and "I Will Trust" In 2014, which rose to the number one position on the Top Gospel Albums chart the week it was released. 
In addition to being a well-regarded figure on the contemporary Christian music scene, Hammond has become well known for his work as a Christian music entrepreneur.  He has worked on more than 100 albums since he established Face to Face Productions in 1992.  He has also taken his music to thousands of fans by keeping up a busy touring schedule. 
"Fred Hammond is the architect behind urban praise and worship, and is respected by all in the music industry," said Ian Turnbull, marketing and sales manager for the Reichhold Center.  "We are excited to have such a talent grace the Reichhold stage."
The Reichhold Center's 38th season is sponsored by International Capital and Management Company, VI Lottery, Innovative, Marriott Frenchman's Reef Resort, FirstBank, and the VI Council on the Arts.  Event sponsorship has also been made available by TIA Associates and BVI Tourism.  The Reichhold Center for the Arts is the flagship performing arts center for the University of the Virgin Islands.
For tickets, visit Reichhold Center's Box Office or call (340) 693-1559. For more information on the Reichhold Center and the 38th season or to purchase tickets visit www.reichholdcenter.org. For inquiries into sponsorship and Stage Bill advertising contact Ian Turnbull at ian.turnbull@uvi.edu or (340) 693-1554.