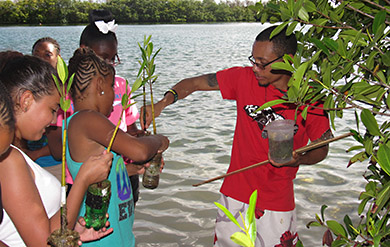 The Virgin Islands Marine Advisory Service (VIMAS) has just implemented its Mangrove Planting Project at two schools on St. Thomas: Lockhart Elementary School and Addelita Cancryn Junior High School. The project recruits K-12 students to help rebuild red mangrove forests on St. Thomas, 50 -75 percent of which have been lost to development over the last century.  It was initiated at the Center for Marine and Environmental Studies (CMES) by Howard Forbes Jr., VIMAS St. Thomas Coordinator, and Jarvon Stout, a VIMAS research assistant.
"Red mangroves are important trees that not only tolerate salt water, but also provide homes for fish and sea birds," said Forbes.  "Our aim is to educate students about how these valuable trees promote biodiversity and protect our shorelines, as well as to increase environmental stewardship ethics in our youth from an early age."
Forbes got the idea from Xavier Cortada, the founder and artistic director of the Reclamation Project in Florida which promotes the intersection of art and ecology.  Because VIMAS has been collecting red mangrove seedlings and growing them in a nursery at UVI's Center for Marine and Environmental Studies for three years, Forbes and Stout recognized that they had at their disposal all the makings of a low-cost yet potentially highly effective  youth ecology conservation program.
Participating students at each of the schools were entrusted to nurture one red mangrove seedling a piece.  They were instructed to find an area on the school grounds where the seedlings could get plenty of sunlight, and were given plastic bottles in which the seedlings could grow in water.  The students were then asked to care for the seedlings until they produce roots and a few leaves, at which point the teachers will organize a field trip for students to plant their maturing seedlings in the CMES nursery. 
When the seedlings become big enough, the students will return to CMES to help transplant the growing mangroves into the field.  Between these activities, they will learn about the importance of revitalizing the mangrove forests in an effort to restore the biodiversity that once thrived there, and to protect the shoreline from storm surges. 
"The design is really simple," said Stout.  "We are using reclaimed 16 oz. water bottles, pushpins, binder clips and red mangrove seedlings.  But the goal is big.  By asking young kids to take responsibility for the growth of the seedlings, we are hoping to instill a lasting sense of duty within the next generation of environmental stewards."