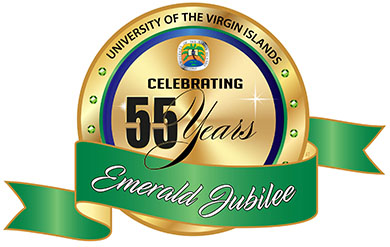 Members of the media are invited to cover and photograph the University of the Virgin Islands
55th Charter Day program at 10 a.m. on March 24, in the Administration and Conference Center on the St. Thomas Campus. The program will be livestreamed to the Great Hall on the Albert A. Sheen Campus on St. Croix.  Senate President Myron Jackson will be the keynote speaker.
Dion Parson and Friends will enliven the program by performing several local folk songs as well as jazz standards and original compositions by percussionist and artist-in-residence Dion Parson. The band will also accompany special guest vocalist, Lorna Freeman, as she performs two surprise selections.
The University was chartered on March 16, 1962, as the College of the Virgin Islands – a publicly funded, co-educational, liberal arts institution by Act 862 of the Fourth Legislature of the Virgin Islands. UVI students, faculty, staff, alumni and the general public are invited to attend the Charter Day ceremony. For more information call (340) 693-1057.
What:             55th Charter Day Program
When:             Friday, March 24, 2017
Time:              10 a.m.
Where:            Administration and Conference Center, First Floor – St. Thomas Campus
                        Video-conferenced to the Great Hall – Albert A. Sheen Campus – St. Croix.
Contact:         UVI Public Relations Office (340) 693-1059