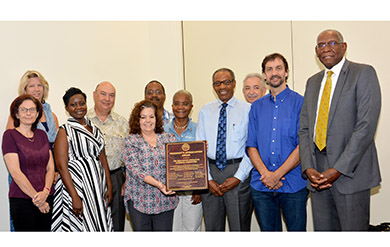 In the regular session of its meeting on June 3, on the St. Thomas Campus, the University of the Virgin Islands Board of Trustees re-elected Henry Smock to serve as chairman and Alexander Moorhead as vice chairman.
Board Chairman Smock welcomed incoming members of the Board of Trustees Amiel Brown, student representative, and Dr. Adam Parr, faculty representative, who is an associate professor of mathematics.
In his report to the Board, UVI President David Hall highlighted the accomplishments of UVI students, alumni and faculty.
Dr. Hall shared with the Board that the University is consistently seeing a number of students being accepted and going onto work on their Ph.D.'s.  
Recent graduates accepted into post-baccalaureate programs include:
Villishia Gregoire, biology major – accepted into a Ph.D. program in Epidemiology and Biostatistics at Michigan State University
Elangeni Yabba, mathematics major – accepted into a Ph.D. program at Albert Einstein School of Medicine
Lorne Joseph, chemistry major – accepted into a Ph.D. program in Chemistry at Rutgers University
Annalyn Brown, biology major – accepted into a Ph.D. program in Pharmacology at the University of the Sciences and into a post-baccalaureate program at Case Western Reserve
Michael Rosario, psychology major – accepted into a Ph.D. program in Neuroscience at Boston University School of Medicine
Erlin Ravariere, biology major – accepted into the Early Medical School Selection Program at Boston University School of Medicine 
Shenee Martin, Emerging Caribbean Scientist scholar - accepted into the Ph.D. in Neuroscience Program at Michigan State University
 "Students across the University, but especially in our science and math areas, are able to compete with the best and the brightest because of the quality of education that they receive here," said President Hall. "They are extremely competitive."
He also highlighted the achievement of 54 UVI students making national presentations on their research or having their work published.
"I am always amazed when I get a list of the number of students who have been involved in presentations and publications," he said. "I keep emphasizing to the Board that this is not something that always happens. For a student to be able to go to a national program and present their research or to work with a faculty member and publish an article while they are an undergraduate student, not at the graduate level where that is expected, but at the undergraduate level – that is an impressive achievement." There were also 30 faculty and staff presentations and 41 faculty members were published.
In his report to the Board, Dr. Hall announced that the School of Business secured approval for an 18-credit Business Track for the University's Ph.D. in Creative Leadership for Innovation and Change.  This brings the number of tracks to four, complementing the tracks in Educational and Academic Leadership for Change, Organizational Development and Leadership, and Creativity and Change Leadership.
As customary, President Hall recognized UVI employees or units that have performed exceptionally with the President's Appreciation Award. This meeting's award was presented to the accreditation Self-Study Initiative Steering Committee and members for their work on UVI's accreditation efforts.
The University's highest priority this year was to have a successful site visit with the Middle States Commission on Higher Education (MSCHE), said President Hall.  
As part of the University's reaffirmation of accreditation process with the MSCHE, UVI hosted a Site Evaluation Team on March 19-22, 2017. UVI was selected to be a part of the first cohort of universities to participate in the MSCHE Collaborative Implementation Project to submit their self-study report and undergo an evaluation team visit during the 2016-2017 academic year. The University was honored to be a member of this special cohort of institutions that applied the Middle States Commission's new standards.
"Though we do not know the result yet – the Middle States Commission will not meet until the latter part of June – we are very pleased with the successful experience we had going through the accreditation site visit," said President Hall. "It takes a lot of time to prepare the self-study, which is the document that we have to present to them." He added that it takes time to organize the logistics for that visit, follow-up with them and to make sure that the University provides them with everything they need to access the University in the best light.
Dr. Hall recognized the Administrative Leader of the self-study and reaffirmation of accreditation process, and Editor-in-Chief Tina M. Koopmans. "This entire community has benefited from her leadership, creativity and interpersonal skills as she guided us to our destination," he said.
Also recognized were the Steering Committee Co-Chairs, Dr. Frank Mills and Dr. Magdalene Tobias. The Standard Subcommittee Chairs were Professor Aubrey Washington, Attorney Nandi Sekou, Dr. Glenn Metts, Dr. Stephen Moore, Dr. Lonnie Hudspeth, Dr. Adam Parr, and Judith Rogers.
"I want to humbly thank the entire University community for contributing individually and collectively to moving this institution forward," said President Hall. "The results are not just a product of what we did to prepare for the accreditation visit, but what we have been doing each day in our various roles. I am grateful and honored to serve as President of a University whose spirit shines so brightly that others can feel it and be inspired."
 The board also heard a presentation of the key performance indicators before moving into executive session.
While in executive session, the board approved the minutes from the executive session of the March 4, 2017 meeting; approved a candidate for tenure; approved a UVI Next Task Force administrative team continuous review and recommendations approved or amendment to it; had a discussion on the Val / Sal Scholarship issues;  received an update report regarding an assessment on emergency preparedness by Nereida Washington; received an update report on personnel issues from the president, received an update report on legal matters from counsel and discussed issues regarding  the Research and Technology Park report.
Board Chairman Smock thanked outgoing Trustee Dr. David Gould, faculty representative, and Trustee Debbie Bermudez, student representative, for their service on the Board.
The next regular meeting of the UVI Board of Trustees is scheduled for Oct. 28, on the Albert A. Sheen Campus on St. Croix.