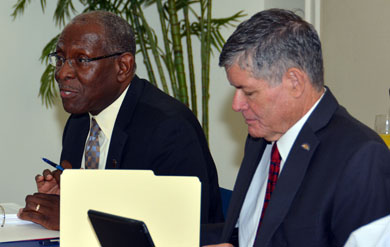 In the regular session of its quarterly meeting on Oct. 21, the University of the Virgin Islands Board of Trustees received an update on damages caused by Hurricanes Irma and Maria to the Albert A. Sheen Campus on St. Croix, the St. Thomas Campus and the St. John Academic Center on St. John.
            "The University of the Virgin Islands suffered severe damage as a result of these unprecedented winds and rain," said UVI President David Hall in his report to the board.  "The estimated total loss to buildings and infrastructure is approximately $51 Million."
The following buildings will need to be rebuilt or significantly renovated:
 Center for Marine and Environmental Studies
 School of Business Building
 Quarters B Administrative Building
 West Hall Residence
 Reichhold Center for the Performing Arts
 Institute for Geocomputational Analysis and Statistics (GeoCAS) and Caribbean Green Technology Center Building
 Faculty West Building
 President's Guest House
 Research and Technology Park Building
 Residence Halls (top levels)
 Agriculture Experiment Station and the Aquaponics Facilities
Pehna House, the area where WUVI and the Security Office are housed on the St. Thomas Campus, was the only building that remained with power throughout Hurricane Irma. WUVI 1090 AM and 97.3 FM was among the few radio stations that transmitted throughout the storm. Employees can now access their email, blackboard, webpages, and banner. Numerous computers, servers and other technology infrastructure were destroyed. Hurricane Maria had a negative impact on the University's internet and other communication systems on both campuses.
As customary, President Hall recognized UVI employees or units within the institution that have performed exceptionally with the President's Appreciation Award. This quarter's award was presented to the UVI community, and in particular, collectively, all those individuals who played such critical and vital roles in the restoration of the campuses and resumption of classes as quickly as the University did. 
"To fully resume classes on both campuses within one month after facing two category five hurricanes is an historic and astounding accomplishment," President Hall said. "As President, I am profoundly grateful to the faculty, staff, administrators and students who contributed to making this achievement possible. UVI has risen and we will become even stronger in the future because of this catastrophic test of nature."
Dr. Hall continued, "The true measure of an institution is not how it handles success, but how it handles tragedies, setbacks and unexpected challenges. The mind, heart and soul of UVI were tested through the events of hurricanes Irma and Maria, and the response demonstrated that we are blessed to have a collection of resilient, thoughtful, caring and innovative individuals who not only weathered the storms, but transformed themselves and the institution in the process."
 "It was very heartwarming to see how happy the students were in celebrating being back on the campus and engaging the education," said Trustee Oran Bowry.  She commended the team for getting the facility ready to welcome students to an environment where they feel safe and confident that they will continue to receive a premier education. "I have every confidence that UVI will continue to rise as a premiere secondary education program in the Caribbean," Trustee Bowry said.
            "Every day we see our community getting back greener," said Student Trustee Amiel Brown. "We see enhancement being made to IT Services, Student Affairs, and even downstairs, Ms. Cheryl Mingo and Monifa Potter, who work in the Registrar's Office. They pulled off a miracle in a week. From the student's perspective, I want to say thank you. We did it. We rose. Other schools cannot say that they did this is such a short time." 
            During his report to the Board, Dr.  Hall noted the accomplishments of students, faculty, staff, alumni and institutional advances to include:
Twenty-five publications and 21 presentations by faculty
UVI received approval of its Substantive Change request from the Middle States Commission on Higher Education (MSCHE) on July 5, 2017 regarding the inclusion of online degrees programs within the scope of the institution's accreditation. The University has been approved to offer two degrees in Business, and only has to notify MSCHE of any additional online degrees it develops.
UVI has secured funding under the Title III program for $1.1 million over a five-year period to commence operations of the childcare center on both campuses on a part-time basis.
UVI received a pledge of $200,000 from Kiril Sokoloff, the founder of 13D, to create a Distinguished Visiting Professorship in Data Science. The field of data science, which includes data analytics, social sciences, life sciences, etc., is key to the future of business development in this technology driven world.
Five alumni were accepted into graduate degree programs at institution like Smith College, Widener College, University of North Carolina, Boston University and Howard University.
"I commend you and your leadership team – your faculty, your staff – everyone who continued to drive home the mission of developing our next generation of leadership," said Trustee Bowry, of President Hall. "For the work that you did on the accreditation and ensuring that we remain accredited and keeping us in tune with technological advances and at the forefront of research."
At Saturday's meeting, Board of Trustees Chair Henry Smock, welcomed new trustees to the Board, to include Student Trustee Amiel Brown; Faculty Trustee Dr. Adam Parr, and Trustee Terrence Joseph, who serves as Board of Education chair.
The Board also set the alumni giving goal for fiscal year 2017-2018 to 25 percent. The Board voted to set the fiscal year 2017-2018 annual fund goal at $2.5 million.
Actions taken by the Board in executive session include:
Approval of the minutes for the June 3, 2017 Board of Trustees executive session
Approval of honorary degree candidates
Approval of a list of potential commencement speakers
Ratification of action taken by the Executive Committee with reference to the Quasi Endowment Fund
Ratification of action taken by the Executive Committee to approve the President's self-assessment and performance goals for 2017-2018.
Approval of the Presidential Goals for 2017-2018
Approval of the UVI Fiscal Year 2018 Operating Budget
In executive session, the Board also received updates on personnel matters and legal issues and approved a motion authorizing the chair to engage in discussion with the president regarding his contract.