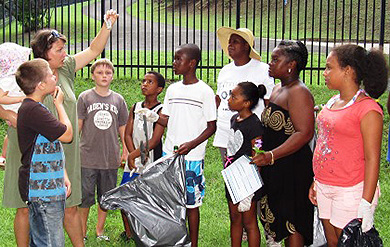 Residents of the St. Thomas community are invited to volunteer their services for a clean-up drive of downtown Charlotte Amalie.
As the territory prepares for the return of cruise ships to its shores on Nov.10, environmentalists and volunteers have partnered to host a clean-up drive to beautify downtown Charlotte Amalie on Nov. 4.
Entities leading the charge in this initiative include the Virgin Islands Marine Advisory Service - St. Thomas (VIMAS), Virgin Islands Relief Logistics, Department of Planning and Natural Resources – Coastal Zone Management (DPNR-CZN) and the Chamber of Commerce and local businesses in the downtown area.
The organizers are inviting all interested volunteers to assemble at 8 a.m. at My Brother's Workshop Café and Bakery located near Bri Boutique and St. Thomas Reformed Church on Nye Gade.
The volunteers will be placed into teams who will target Charlotte Amalie West beginning at Emile Griffith Ball Park, the Waterfront and Backstreet areas and Charlotte Amalie East to include Havensight.
Due to the effects of the recent hurricanes Irma and Maria, a lot of debris is now clogging the drains and can possibly be carried out to sea. "I think it's so important to realize that everything we do affects our coastal zone. Keeping the streets clean not only beautifies our town but also protects our ocean from the hazards of marine debris," said Kristina Edwards, outreach coordinator of the DPNR – CZM. She said, "I'm looking forward to joining forces with the Charlotte Amalie community to keep our Rock City streets clean."
 "After the hurricanes, a lot of plastic debris is now overflowing from garbage bin sites and is collecting in some storm drains," said Howard Forbes Jr., St. Thomas coordinator, Virgin Islands Marine Advisory Service. "We're aiming to improve the aesthetics and overall health of the environment by removing this debris before it can enter our oceans and affect our wildlife."
CEO and Co-Founder of Virgin Islands Relief Logistics, Imani Daniel said, "With all the debris and runoff caused by the hurricanes we now have an exciting opportunity to come together as a community and revitalize our common spaces." She said, "By cleaning and enhancing our historic districts we can help expedite our path to economic growth and recovery."
Volunteers will also be provided with water and all cleaning supplies. However, volunteers are asked to bring along a refillable water bottle to help minimize debris. Lunch will be provided by My Brothers Workshop Café and Bakery to all clean-up volunteers.
For more information on partnering and volunteering, interested persons can contact the organizers via phone at (340) 513-7203 or email howard.forbes@live.uvi.edu.