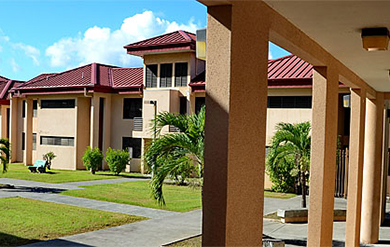 The University of the Virgin Islands Board of Trustees will meet at 9 a.m. on Saturday, June 2, in the Administration and Conference Center Building on St. Thomas and in the Great Hall on the Albert A. Sheen Campus on St. Croix.  The Board will meet via teleconference from various points.
The meeting will begin with regular session agenda items. UVI President Dr. David Hall will present the President's Report. He will be followed by Board Chairman Henry Smock with the Chairman's Comments. The Board will receive an update report from the Research and Technology Park. Then the Board will consider other agenda items.
The Academic, Research, Student Affairs Committee will make a presentation on a proposal to create a Bachelor of Science Degree Program in Maritime Management (BSMM). The BSMM is designed to provide expanded career opportunities in the maritime industry, including positions in ship management, port management, logistics management, brokering, and other maritime trade and sales positions. The ARSA Committee will also make a presentation on a proposal to change the minimum of total credits required for any Bachelor of Business Administration.
The Buildings and Grounds Committee will make a presentation to issue a request for proposal for construction/installation and operation of two off-grid power generating/producing facilities.
Other items requiring Board action include, presentations from the Finance and Budget Committee on Fiscal Year 2018 Operating Budget Revisions Number one, on an investment proposal for the Quasi-Endowment Fund and on a Telecommuting Policy.
The Planning Committee will present UVI's key performance indicators. The Board will go into executive session and will report any actions taken in executive session before being adjourned.
The Board last met in regular session on March 3, 2018. A complete list of Board meetings is available on the Board of Trustees page of the UVI website www.uvi.edu and from this direct link.