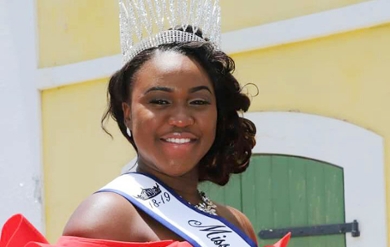 Miss UVI 2018-2019, Kendra Kent, will compete in the 2018 National Black College Alumni (NBCA) Hall of Fame Queens pageant from Sept. 26 to Sept. 30, in Atlanta, GA., at the Hyatt Regency Hotel. Kent will compete against 33 other college queens from Historically Black Colleges and Universities (HBCU's) around the nation for the title of Miss NBCA Hall of Fame.
Kent will be accompanied by her advisor, Leon Lafond, director of Student Activities, co-advisor, Jessica Johnson-Wispe and her assistant coach Che-Raina Warner.
"I am honored to be given this opportunity to represent the University of the Virgin Islands," Kent said. "I am very excited to showcase my talents, skills and personality on a larger scale, in hopes of making my university and the Virgin Islands community proud."
Kent, age 22, is from St. Croix and attends UVI on the St. Thomas Campus. She is a senior majoring in criminal justice. Her career aspiration is to become an intelligence analyst working within the Department of Homeland Security. Kent captured the 2018 Ms. UVI title on a platform she dubbed: "The Wounds Unseen." Her platform is centered around mental health/wellness awareness especially among her peers. Kent's hobbies and interests include dancing and graphic design.
This year, which marks the 33rd installment of the competition, all NBCA contestants will be judged in the following four categories:
           Oratory - speech
           Talent
           Presentation/Image – interview and question and answer
           Poise/Projection – evening wear
The 2018 Miss NBCA will serve as a national representative and advocate of HBCU's, and will receive an academic scholarship among other prizes.
"I'm eager to witness another year of greatness amongst my colleagues and students from other HBCU's across the nation," Lafond said. "More specifically, I am even more excited that our current student ambassador has the opportunity to display resiliency on behalf of the entire Virgin Islands community subsequent to last year's devastating storms."
Kent expressed her gratitude to several entities for partnering with UVI to sponsor her quest to become Miss NBCA Hall of Fame Queen 2018-19. Those sponsors include: University of the Virgin Islands, VI Department of Tourism, St. Thomas Federal Credit Union, VI Economic Development Authority, West Indian Company Limited, Dr. Sheena Walker of Mind, Body and Health Psychology LLC and G&D Seafood. She also thanked everyone who has played a pivotal role in her preparations, including Leon Lafond, Merlisa George, Che-Raina Warner, Aron Gumbs and the SGA Queen's Committee.
"I humbly believe that Kendra will represent the University of the Virgin Islands to the best of her ability, providing an opportunity for the world to see why we are historically American, uniquely Caribbean, and globally interactive," Lafond said.
The focus of the competition is to provide great opportunities for young women attending Historically Black Colleges and Universities (HBCUs) and help them better prepare for the future, as well as gain self-awareness, self-confidence, individual pride, pride for their institution and a greater social awareness overall.
The NBCA queen's competition is sponsored by the NBCA Hall of Fame organization, which is dedicated to the growth and development of HBCU's through scholarships, internships, training and technical assistance, alumni recognition, and programs to encourage humanitarian involvement.
For more information, contact UVI Student Activities Director, Leon Lafond at (340) 693-1111 or llafond@uvi.edu.