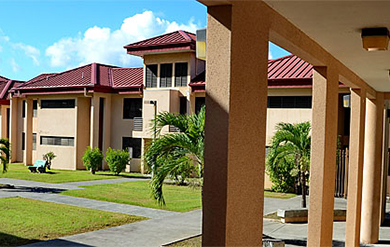 This Spring, University of the Virgin Islands students will get a chance to "Serve, Learn and Grow" during the third Annual Alternative Spring Break (ASB).  From March 11 – 15, the ASB program will offer students the opportunity to become immersed in meaningful community service campaigns, forge new and lifelong lasting relationships, and become exposed to new and exciting experiences. 
"We are excited to partner with organizations and agencies in our community to provide the week-long service and experiential learning projects designed to foster self-awareness, teamwork and leadership skills," said Dean of Students on the St. Thomas Campus, Verna Rivers. 
ASB is designed as a peer-led initiative in which students, work alongside staff or faculty coordinators to develop the framework for the projects which also include fun activities.  As a part of this years' curriculum and experiential learning, ASB participants will participate in numerous teambuilding activities and reflective exercises while residing in on-campus housing.  Dean of Students on the Albert A. Sheen Campus, Hedda Finch-Simpson, encourages ASB participants to embrace the opportunities offered by the University, become advocates for change and for programs that positively impact our community.   ASB participants will also have an opportunity on both campuses to share their experiences with the University community, family and friends.  The listed 2019 ASB projects and community partner are highlighted below.
Sound deh Alarm, American Red Cross, St. Thomas, VI
Primary Focus:  Safety Awareness and Installation of Fire Alarms
Helping Hands, Queen Louise Home for the Aged,  St. Thomas, VI
Primary Focus:  Making a Difference in the Lives of the Elderly
Roots N' Pride, Nisky Moravian Church, St. Thomas, VI
Primary Focus:  Historic Restoration and Family Genealogy
Survival Skills, Ridge to Reef Organic Farm, St. Croix, VI
Primary Focus: Organic Farming and Sustainable Living
Crucian Pride, University of the Virgin Islands, St. Croix, VI
Primary Focus:  Historic Sites Preservation and Crucian Cultural Extravaganza
Make our Island Shine, St. Croix Environmental Association, St. Croix, VI
Primary Focus:  Trail Restoration, Turtle Surveying, and Beautifying our Islands
Pillow Project, American Red Cross, St. Croix, VI
Primary focus:  Emergency Awareness and Preparedness
The application link is  Alternative Spring Break APPLICATION- Click NOW. The deadline to apply is Tuesday, March 5, 2019.  For further information, kindly contact the Offices of the Dean of Students at (340) 693-1087 or vrivers@uvi.edu on St. Thomas and (340) 692-4188 or hfinch@uvi.edu on St. Croix.  ASB was developed and is being implemented by the Student Affairs Offices.