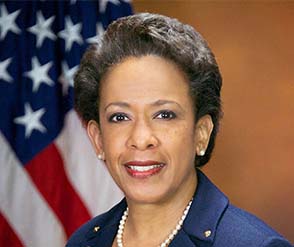 Members of the media are invited to cover and photograph the University of the Virgin Islands Student Convocation featuring the former United States Attorney General the Honorable Loretta E. Lynch from 9 a.m. to 11 a.m. on Tuesday, Feb. 25, in the Great Hall on the Albert A. Sheen Campus on St. Croix. The event will be live-streamed on UVI's YouTube Channel and website - www.uvi.edu.
Attorney Lynch served as attorney general under the leadership of former President Barack Obama in 2015- 2017 and is the second African-American and first African-American woman to be confirmed for the U.S. Attorney General position. Attorney Lynch will receive an honorary degree at the Convocation.
Priority seating will be provided for students who are attending. Faculty, staff and administrators are also invited to attend. 
Media Guidelines:
The University has been asked to adhere to strict guidelines for this event.
Reporters will be seated in a designated press section and may not participate in the audience question and answer, should there be one.
Photos by the press will be limited to the first and last one to minutes of the Attorney's program.
Broadcast cameras should work from a fixed position at the back of the room.
The Attorney will not be available for interviews.
Interested reporters must RSVP by Thursday, Feb. 20, by contacting the Public Relations Office.
Press credentials will be provided at the event.
What:             UVI Student Convocation
When:             Tuesday, Feb. 25, 2020
Time:              9 a.m. – 11a.m.
Where:           The Great Hall – Albert A. Sheen Campus – St. Croix      
Contact:         UVI Public Relations Office (340) 693-1059