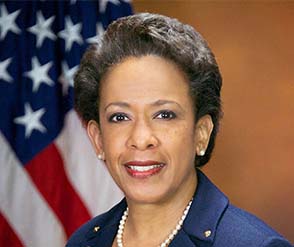 The University of the Virgin Islands (UVI) has been selected to host a Student Convocation with the Honorable Loretta E. Lynch, former United States Attorney General, on Feb. 25, on the Albert A. Sheen Campus on St. Croix. Attorney Lynch was appointed by former President Barack Obama in 2015 and served until 2017. She is the first African-American woman to be confirmed for the United States Attorney General position.  
The Convocation will take place from 9 a.m. to 11 a.m. and will also be available via livestream on the UVI website. Transportation will be provided for a limited number of St. Thomas students who want to attend the event in person. The University will bestow an honorary degree upon the Honorable Loretta E. Lynch at the Convocation. 
"The Student Convocations, which highlight nationally known leaders and trailblazers, are a special part of the UVI student tradition and institutional mission because the University strives to cultivate and prepare the future leaders of the Caribbean and the world," said President David Hall. "Hosting former U.S. Attorney General Loretta Lynch is an honor for the University and a special treat for our students." 
Attorney Lynch is looking forward to meeting with and hearing from UVI's students, therefore priority seating will be provided for students interested in attending. She is especially interested in entertaining students' questions. However, the questions must be submitted ahead of time for consideration. The deadline for submission of questions is Feb. 14, 2020. Students are asked to send their questions for consideration to udyer@uvi.edu with "Question for Attorney Lynch" in the subject line. Students whose questions are selected will have the opportunity to ask Attorney Lynch their question. UVI faculty, staff and administrators are also invited to attend. 
"As the only Historically Black College and University (HBCU) outside the continental U.S. and as we celebrate Black History Month, we will be blessed to have in our midst a distinguished legal professional who served as the head of the U.S. Department of Justice and the chief lawyer for the country," President Hall stated. 
 "Attorney Lynch is a trailblazer in many respects and has handled some of this nation's most difficult and meaningful legal matters. Her legal training, expertise and experience places her among the highest echelon of legal minds in the country," President Hall added. "Just as we all were inspired at the last Student Convocation by Justice Sotomayor, I know we will be equally inspired and challenged by Attorney Lynch's presence and remarks." The University hosted a similar Student Convocation with Justice Sotomayor on the St. Thomas Campus, in 2017. 
"I want to thank Chief Judge Wilma Lewis for being so instrumental in facilitating the visit by former Attorney General Lynch," President Hall noted. 
For more information about the Student Convocation, please contact the Public Relations Office at (340) 693-1056.