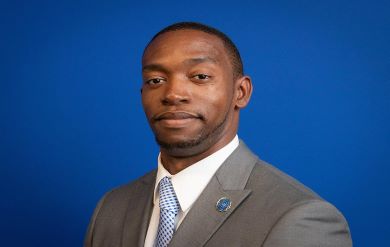 The University of the Virgin Islands (UVI) will welcome Dr. Jerel Drew to the helm of the University's Athletics Departmentnext month. Effective Sept. 1, 2020, Dr. Drew will begin his tenure as UVI's new athletic director.
"I am extremely excited for this opportunity to lead UVI's athletic program," Dr. Drew said. "I look forward to working together with all stakeholders in order to fulfill the University's mission. Drawing on the potential of all involved, we can work together to advance and elevate UVI's athletic program to become a household name in the collegiate arena."
   Previously, Dr. Drew served as associate athletic director for compliance for Elizabeth City State University (ECSU) in North Carolina. Since 2017, he has been a member of the Central Intercollegiate Athletic Association (CIAA), the oldest African-American Historically Black Colleges and Universities (HBCU) athletic conference in the United States.  Dr. Drew has over a decade of experience in intercollegiate athletic administration at the National Collegiate Athletic Association (NCAA) Division II and National Association of Intercollegiate Athletics (NAIA) level.
"We look forward to having Dr. Drew join the UVI family as our next director of athletics," said Dr. Camille McKayle, provost and vice president of Academic Affairs. "He will bring expertise and experience in the areas of development, compliance and student athlete support."
Dr. Drew was influential in the development of the Viking Investor Program, an annual giving campaign in coordination with the ECSU Foundation with a goal of $200,000. This first-of-its-kind campaign was centered on new season ticket package offerings, complete with parking, and a host of other benefits and amenities, allowing Viking Athletics supporters the one-stop-shop convenience they were seeking.
In 2019, Dr. Drew secured ECSU Athletics' first medical sponsorship with Vidant Family & Sports Medicine. The $60,000 annual sponsorship has helped elevate ECSU's athletic training capabilities and resources significantly.
Under Dr. Drew's guidance, the university saw dramatic improvements within their compliance and student-athlete academic performance. Under Dr. Drew's leadership, 78 ECSU student-athletes earned above 3.0 term cumulative GPA in 2020, a 26 percent increase from 2018-2019. Forty-nine student-athletes achieved Viking Scholar Student-Athlete status, a 36 percent increase compared to the 2018-2019 season. Of the 78 student-athletes who have been awarded academic honors, 20 majors are represented, six student-athletes are in the honors programs, and three student-athletes are Benjamin A. Gilman International Scholars.
"Athletics is integral to school spirit and offers an outlet for student athletes, and his continuing in the NAIA will ensure that our athletics program is at a level worthy of our student athletes," Dr. McKayle said. "Dr. Drew is committed to moving UVI Athletics forward and will utilize this upcoming year to lay the groundwork for a strong resurgence."
Dr. Drew holds a Doctor of Education degree with a specialization in sports management, which he earned from Northcentral University in 2019. He also earned a Master of Education degree with a specialization in athletic coaching from Northcentral University in 2013.
Beyond the athletic division, Dr. Drew also served as a member of the Chancellors Executive Cabinet, Enrollment Management, CARE Team, Emergency Response Team, and is also the Vice President of Compliance for the CIAA.