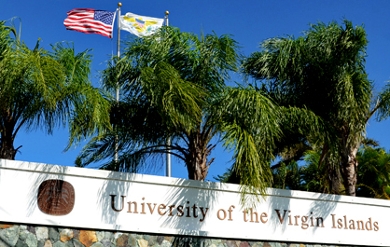 The University of the Virgin Islands Board of Trustees will meet at 9 a.m. on Saturday, June 20, via teleconference. Media instructions for participation will be shared in the email accompanying this release. Once connected to the meeting, members of the media are required to mute their phones for the duration of the meeting. No questions are to be asked on the call by media during the meeting. All questions should be sent via email to the UVI Director of Public Relations, Tamika Thomas Williams, at tamika.thomaswilliams@uvi.edu.
The meeting will begin with regular session agenda items. The meeting will continue with the election of officers. A slate of candidates for the positions of chair and vice chair has been developed and will be presented to the Board for their deliberation and action.
UVI President Dr. David Hall will present the President's Report. He will be followed by Board Chairman Henry Smock with the Chairman's Comments. The Board will receive an update report from the Research and Technology Park. Then the Board will consider other agenda items.
The Academic, Research, Student Affairs Committee will make several presentations and take action on these agenda items:
Proposal for a Bachelor of Arts in Interdisciplinary Studies
Proposal for a Bachelor of Science in Interdisciplinary Studies
Proposal for the School of Graduate Education
Proposal for the School of Agriculture
Proposal to revise Policy for Conferring Emeritus Status
The Board will then hear a presentation from the Finance and Budget Committee on the FY2020 proposed operating budget revision.
The Governance Committee will present to the Board their recommendation of a candidate for the status of trustee emeritus.
The Planning Committee will then present UVI's key performance indicators. The Board will go into executive session and will report any actions taken in executive session before being adjourned.
The Board last met in regular session on March 7. A complete list of Board meetings is available on the Board of Trustees page of the UVI website www.uvi.edu and from this direct link.