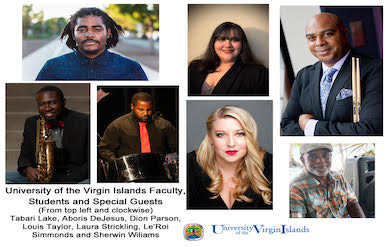 St. John School of the Arts (SJSA) in collaboration with the United Jazz Foundation (UJF) will virtually present an Evening of Classics and Jazz with the University of the Virgin Islands Music faculty, students and special guests on Friday, Feb. 12. There will be a "Mingle with the Musicians" event starting at 7 p.m. via Zoom and then the virtual concert begins at 7:30 p.m. This concert is part of the annual Sis Frank Concert Series that has been bringing world-renowned musicians to St. John. This year SJSA is offering all concerts in the series for free but is asking for donations to help cover expenses. 
With Dion Parson as head of UVI's Music Department as well as his plethora of accomplishments and collaborative music performances, this concert should not be missed. Parson is an educator, composer, and one of New York's finest, Grammy-award-winning drummers whose musical foundation ranges from classical, reggae, calypso, jazz, African, and pop music. He has performed globally in Asia, Europe, Canada, the West Indies, Africa, and the Middle East. Parson has recorded for several major labels, including Columbia, Sony, Gramavision, Arabesque, Blue Note, High Five, Verve, Enja, Koch Records and Concord Records. 
In 1998, together with Ron Blake, Parson founded 21st Century Band, a jazz band featuring the rich musical traditions of jazz fused with the rhythms of his native U.S. Virgin Islands. In addition to his established presence on the jazz scene, Parson has also performed on Broadway with the musical "The Color Purple".  Always passionate about giving back to his community, in 2009 he founded "Mentoring Through the Arts of Music", under the auspices of United Jazz Foundation, of which he is president. 
Other performers include: Aboris De Jesus (piano), Tabari Lake (bass), Le'Roi Simmonds (steel pan), Laura Strickling (vocals), Louis Taylor (piano) and Sherwin Williams (saxophone). Each musician brings such talent rooted in a diverse yet impressive history of performance and education. The ensemble of multi-generational musicians is certain to bring a smile to your face. 
For a full biography of each musician, please visit https://www.stjohnschoolofthearts.org/sfcs-2021-parson-bios.
To reserve your "ticket link," please visit
https://www.stjohnschoolofthearts.org/ticketing-events/p/individual-concert-show-tickets-links.
St. John School of the Arts (SJSA) is partially supported through a grant made possible by Virgin Islands Council on the Arts, National Endowment for the Arts and Virgin Islands Lottery. The concert series is sponsored by: Street Level VI; Partnerships In Hope; Michael and Caron Trese; Jay and Monique Walters; Harvey and Glenda Werbel; Miles and Susan Stair; St. John Hardware; Merchants Bank; First Bank; Holiday Homes; 340 Real Estate; Caravan Gallery; St. John Insurance; Unique Island Assets; Slimman's Jeep Rental; Muilenburg Law LLC; and Starfish Market.