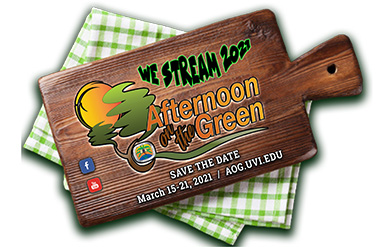 The University of the Virgin Islands invites the community to our virtual Afternoon on the Green on Sunday, March 15, 2021. Fans of UVI's annual "friend-raiser" will be treated to virtual extravaganza, featuring tips and tricks from long time cooks sharing their signature dishes, electrifying entertainment and fun activities for the kids.  This year's theme is "We Stream Afternoon on the Green 2021." 
"I am excited to present Afternoon on the Green virtually," said AOG Committee Chair Loretta Lloyd. "The Afternoon on the Green committee has worked hard to present this event that is so close to our hearts, while ensuring the safety our community. We have so much in store for your and are looking forward to seeing you online."  
Our cooks have invited you into their kitchens as they prepare tantalizing treats. This year's highlights will include roast pork, stewed chicken, fish, black bean soup, baked mac and cheese, 'pot of gold' rainbow cake and native drinks. 
Virtual viewers will witness for the first time at Afternoon on the Green, a "BBQ Smackdown" featuring members of the Atlanta Alumni Association Chapter grilling in their backyards. 
Also, new to Afternoon on the Green, Reichhold Center for the Arts will feature Virgin Islands tradition and culture. The main highlight is expected to be the "How to Build Your Own Go Kart" segment. 
Afternoon on the Green has been known for a packed, exciting line-up of entertainment, and this year is no exception. From Bamboola Dancers to Melanin Migration, Mungo Niles Cultural Dancers, Stanley and the Sleepless Nights, the energetic and ever popular DJ TonyT will keep the afternoon upbeat until the electrifying sounds of the Cool Session Brass brings the curtains down. 
As is customary, faculty, staff and students from the various schools and divisions will share their projects, degree programs, clubs, organizations, opportunities, displays and activities with prospective students and the general public. 
Afternoon on the Green is made possible through the kind sponsorship of the U.S.V.I. Department of Tourism, the V.I. Lottery, First Bank VI and the Virgin Islands Council on the Arts (VICA).  
To attend vist www.uvi.edu. Select the Back and Bucs & Afternoon on the Green or see this link: Afternoon on the Green