In the fall of 2008, the National Science Foundation (NSF) awarded the Virgin Islands Experimental Program to Stimulate Competitive Research (VI-EPSCoR) its second major Research Infrastructure Improvement (RII) grant to fund the Integrated Caribbean Coastal Ecosystems (ICCE) research project in the Virgin Islands. The program's research activities covered six years - through 2014 - during which the NSF provided $12.4 in funding. 
The program allowed researchers to focus on two gritical gaps in knowledge that were identified by an earlier RII grant known as the Biocomplexity of Caribbean Coral Reefs (BCCR). As the BCCR program developed and matured over the four-year grant period, two critical gaps in knowledge were identified:
What are the influences of biotic, physical and human interactions in coastal ecosystems?
To what extent are oceanographic and climatic forces affecting coral reef ecosystems?
ICCE was developed as an integrated island ecosystem approach which facilitates and supports interdisciplinary studies of terrestrial, coastal and oceanic environments, as well as the related social, health and economic impacts on island communities. 
ICCE provided the opportunity to build on what was started in the initial VI-ESPCoR project, and to further establish UVI as a world leader in tropical maine research, according to then VI-EPSCoR Director Dr. Henry Smith, who also served as the ICCE project principal investigator. The project's results were also credited with improving the capacity of the University of the Virgin Islands through VI-EPSCoR to compete nationally for research grants. 
---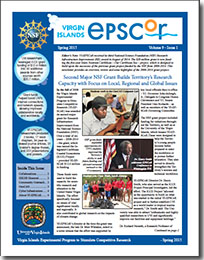 VI-EPSCoR Newsletter

Spring 2014 - View as ePub  |  View as PDF