The marine ecosystems of the U.S. Virgin Islands, especially coral reefs, are key to the economic viability and prosperity of the Territory. But they are vulnerable to both land-based and water-based human activities, as well as climatic and oceanographic change.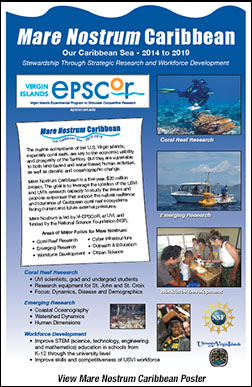 Mare Nostrum Caribbean is a five-year, $20 million project. Our goal is to leverage the location of the USVI and UVI's research capacity to study the issues and propose responses that support the natural resilience and tolerance of Caribbean coral reef ecosystems facing current and future external pressures. 
Mare Nostrum is led by VI-EPSCoR, at UVI and funded by the National Science Foundation (NSF).  
Areas of Major Focus for Mare Nostrum:
Coral Reef Research
Emerging Research
Workforce Development
Cyber Infrastructure
Outreach & Education
Citizen Science

Stewardship Through Strategic Research and Workforce Development

Mare Nostrum Caribbean is designed to support research that will increase understanding of the challenges facing local coral reef ecosystems - from climate change to destructive human impacts. The goal is to predict coral reef responses to these conditions, propose strategies to alleviate the destructive impact of human behaviors, and intervene where possible to protect our natural resources and way of life today and for future generations.
The project will: build community collaborations; increase and improve opportunities in Science, Technology, Engineering and Mathematics (STEM) education; build a more competitive workforce; and cultivate a scientifically informed population.
Mare Nostrum offers a unique opportunity to protect resources while strengthening our abilities to tackle the challenges of an uncertain future.
More Information:
CONTACT US:
Phone: St. Thomas (340) 693-1422
Phone: St. Croix (340) 692-4003
Web: epscor.uvi.edu    
Email: ndrayton@uvi.edu