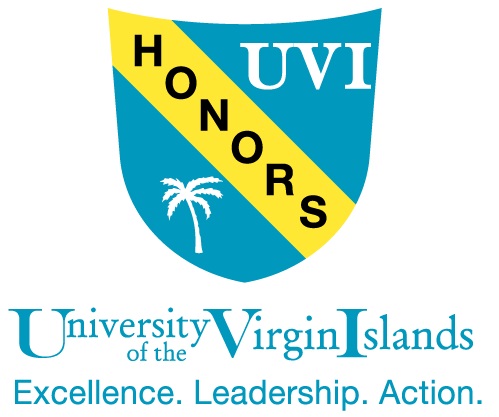 Students will be admitted to the Honors Program through approval of their application to the Honors Council upon matriculation into the University and satisfaction of the Honors Program entrance requirements in mathematics and English. The Honors Council will take into consideration for admission a combination of the following factors: SAT/ACT scores, previous academic records including grades and academic rank, evidence of creative and/or scholastic ability recommendations from previous instructors and/or mentors, interviews, and such other factors as the Honors Council finds appropriate in evaluating the potential of the applicant to successfully complete the program.
Fall Semester Application Deadline is April 30.
Spring Semester Application Deadline is October 30.
Program Requirements:
In order to remain in the program and graduate with Honors, student participants must:
Maintain a GPA of 3.3.

Accept a leadership role in ensuring adherence to the UVI student code of conduct and demonstrate their personal adherence to that code.

Receive a grade of B or better in each of three required Honors courses and in two additional Honors designated courses, one of which must be in their major.

Complete and report on a professional outreach experience, planning for which must be developed with their Honors advisor/mentor, by the end of their junior year.

Complete and satisfactorily defend a thesis or project in their senior year.
Honors students may be granted probationary status for only one semester by the program director, if their overall grade point average falls below 3.3.
Contact Information:
For More Information Contact
Title
Name
Department Chair

Emily Allen Williams, PhD

Administrative Assistant

Charmane Joseph

(stt campus);

Debbie Joseph

(stx campus)