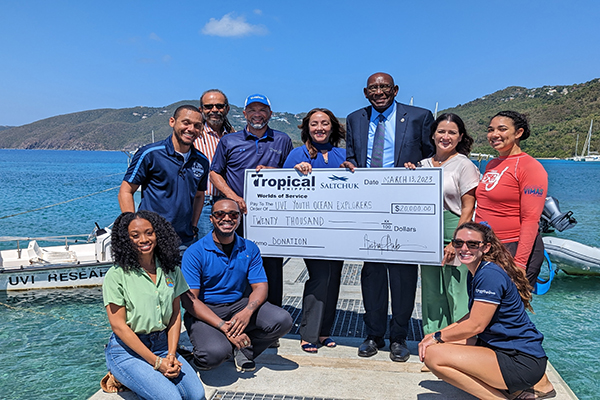 The University of the Virgin Islands (UVI) is pleased to announce that it has received a generous $20,000 donation from Tropical Shipping to support its Youth Ocean Explorers (YOE) program.
The donation will be used to enhance the hands-on marine science learning experience for middle to high school-aged students interested in studying coastal, marine and environmental science, natural resource management, and conservation.
"On behalf of the University of the Virgin Islands, I would like to express our gratitude to Tropical Shipping for its ongoing generous donation to support our Youth Ocean Explorers program. This program is critical to helping young people in our community gain an appreciation for the marine environment and the role it plays in our daily lives," said Dr. David Hall, president of the University of the Virgin Islands. "We are committed to providing innovative educational opportunities for our students and community members, and this donation will help us achieve that goal."
Tropical Shipping has been a longstanding supporter of the YOE program. Beginning in 2017, Tropical Shipping donated over $78,000 to the program. A leading transportation and logistics company in the Caribbean, Tropical Shipping is committed to the success and wellbeing of individuals and businesses throughout the Caribbean and the Bahamas. The company's community relations and donations are geared towards youth and educational initiatives that are impactful, unique and sustainable.
"Tropical Shipping believes that sustainable business growth and community development begins with our value proposition of 'People First,'" said Jennifer Nugent-Hill, director of Governmental and Community Affairs. "Our community giving program is proud to support vibrant youth education initiatives like UVI's Youth Ocean Explorers program, which provides education and awareness to young people in our community about our oceans and their importance to our way of life. We are pleased to continue our support of YOE again this year, and we see it as a wise investment in the future of our communities."
Established by UVI in 2015, YOE has had a significant impact on the U.S. Virgin Islands community, helping to inspire young people to pursue careers related to marine sciences. In addition to educating students about life underwater, the program encourages them to be aware of and care for their environment. Students participate in beach cleanups and other activities that reinforce the need to be conscious of their waste and its impact on the environment around them.
"Having grown up and raised my own family on the Virgin Islands, I understand the significant opportunities initiatives like UVI's Youth Ocean Explorers provide to our community. YOE allows the youth of the Virgin Islands to explore underwater life, learn essential safety skills, and understand the importance of protecting our oceans and marine environments," said Nisha F. Aubain, island manager for St. Thomas and St. John.
"These experiences are foundational for kids like my own son, who joined the U.S. Navy and will continue his career on the water here at home after retiring from service. I'm proud of Tropical's commitment to our community and our support of YOE."
Another key goal of UVI's YOE program is to develop the next generation of STEM (Science, Technology, Engineering and Mathematics) leaders in the Virgin Islands. "By introducing our young people to disciplines such as marine biology, oceanography, science communication, conservation science, marine and aquatic botany, environmental law, animal husbandry, marine engineering, marine ecology, and teaching, we are inspiring them to pursue additional research and learning. In addition, the skills they acquire in scuba diving can be valuable in their future career endeavors as well as their personal recreational activities," said Howard Forbes, St. Thomas coordinator of the Virgin Islands Marine Advisory Service (VIMAS) and the director of the YOE program.
Joining Aubain for the check presentation on Monday, March 13, 2023, was Sal Griffith, Tropical Shipping's St. Thomas operations manager and Maria Del Mar Rodriguez, Tropical Shipping assistant vice president for Hispaniola and USVI.
See this link for more information about the Youth Ocean Explorers- https://www.uvi.edu/community/virgin-islands-marine-advisory-service/st-thomas/vimas-discovery_week.html

For more information, contact the UVI Public Relations Office pr@uvi.edu.