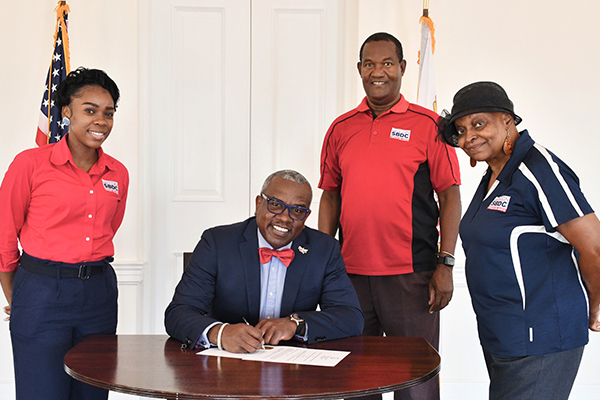 The Virgin Islands Small Business Development Center (VI SBDC) is overjoyed that the Honorable Governor Albert Bryan Jr. has proclaimed Wednesday, March 15, 2023, as 'VI SBDC Day' in the U.S. Virgin Islands.
For over 40 years the America's Small Business Development Center (ASBDC) Network has helped millions of men, women, veteran and minority entrepreneurs and small business owners start and grow their businesses. Established in 1985, the VI SBDC is proud to share another year of progress in supporting USVI small business owners and aspiring entrepreneurs fulfill their dreams and aspirations.
This Wednesday, the U.S. Virgin Islands celebrates 'VI SBDC Day' in allegiance with America's Small Business Development Center (SBDC) network to promote economic prosperity. Core services provided by the VI SBDC include strategic business planning, business startup, management and financing guidance, market development, innovation and technology, regulatory compliance, technical assistance through loan application and packaging, along with business education training from experts in both the private and public sector.
Reputable since inception as early as 1985, the VI SBDC, which is connected to the largest, proven, cost-effective small business assistance network in the United States and its territories, has impacted the business community. "I would like to thank Governor Bryan Jr. and his team for this day of distinction that celebrates business resiliency. Last year alone, the VI SBDC was successful in assisting over 750 clients, supporting over 1,500 jobs and helped our clients obtain over $3.9 million in capitalization. Small businesses in the Territory have experienced tremendous hardships over the past years, but through persistence and hard work, they have overcome these adversities. The VI SBDC could not have achieved these milestones without support from Governor Bryan Jr., the University of the Virgin Islands, the Small Business Administration, and our other partners in the territory," Karen Jones, VI SBDC interim state director.
VI SBDC resource partners, clients and supporters are celebrating the day by participating in the national SBDC Day Ambassador program which is designed for organizations and businesses to get involved in SBDC Day and show their support through social media, blogs and newsletters. Join the movement, upload a picture on social media of your small business with the hashtag #SBDCDAY and tag the @VISBDC to show your support.
To learn more, please visit the VI SBDC website at www.visbdc.org find them on social media (Facebook, Twitter, Instagram, YouTube), or download the mobile app to your telephone through both Android or Apple platforms.