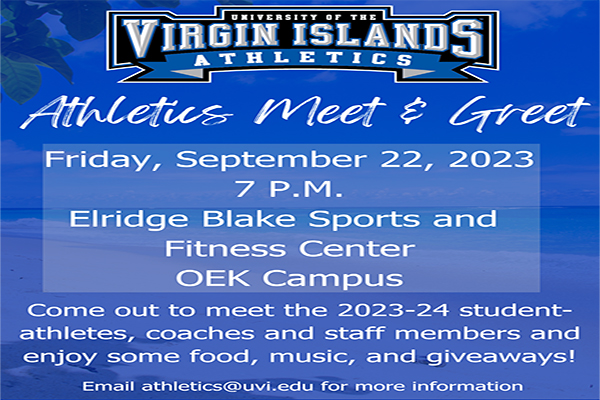 Members of the media are invited to cover and photograph the University of the Virgin Islands Athletics Department Meet and Greet on Sept. 22, in the Elridge Blake Sports and Fitness Center on the Orville E. Kean Campus on St. Thomas.
Dr. Karen M. Carty, UVI's director of Athletics is delighted to set the stage for student-athletes, their coaches and athletics staff to interact with the UVI community during an evening of camaraderie and fun.
The UVI community is invited to come out for this event and enjoy food, music, and giveaways.
What: Athletics Meet & Greet
When: Friday, September 22
Time: 7 p.m.
Where: Orville E. Kean Campus – Eldrige W. Blake Sports & Fitness Center – St. Thomas
Contact: UVI Public Relations Office (340) 693-1059