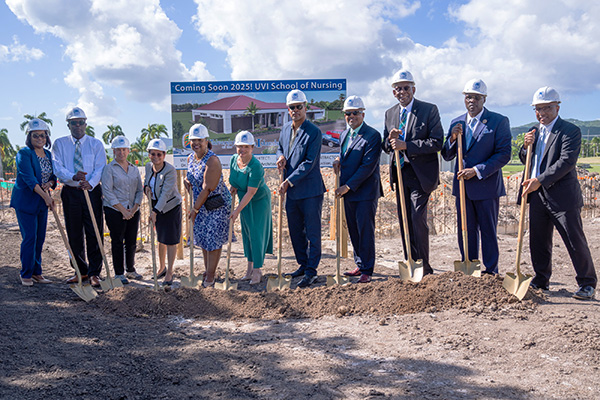 The University of the Virgin Islands (UVI) School of Nursing (SON) will soon have a brand-new, state-of-the-art learning facility. At the official groundbreaking ceremony held yesterday on the Albert A. Sheen Campus on St. Croix, UVI officials, government dignitaries, students, and guests gathered to celebrate the construction of the 11,800 square foot building that will serve as the learning center for nursing students and house the University's Health Services Department.
Speaking at the groundbreaking, UVI President, Dr. David Hall stated, "It is special because we are doing something that is going to benefit generations to come. The nurses that we produce at this university go on to serve this community in the hospitals, in clinics, in so many different settings. We want to be sure that they are being trained in facilities that are the best that one can provide because they are the best that we have." Dr. Hall recognized faculty, staff, students, federal and local government officials as well as the Thurgood Marshall College Fund President and CEO in attendance, Dr. Harry Williams, for his advocacy. "I just want to indicate to all of you how proud I am that we have worked together to transform the future of the Virgin Islands."
The one-story steel framed building will include two clinical labs with classroom capacity of 28 and a shared observation room, four hospital room simulations, a classroom with a capacity of 24, a student break area, a student collaboration area, a study/debriefing room, a large conference room, and six faculty offices as well as a Dean's office. The Health Services area, to be used by students needing medical attention, will include a triage/lab, two exam rooms, a recovery area, two offices, and a covered outdoor breezeway with seating for 17.
Sharing his congratulatory remarks, VI Lieutenant Governor Tregenza Roach stated, "We are poised to have a quality healthcare system in the Territory with these facilities at our disposal that will be critical in addressing the health needs of the people of the Virgin Islands as well as the health needs of our neighbors in the Caribbean who have no facilities that are comparable to the ones we have here." He went on to thank President Hall and others including former Senator Kurt Vialet who was instrumental in supporting the School of Nursing building project and other related UVI initiatives.
Former Senator Kurt Vialet shared his excitement at the ceremony applauding the UVI Nursing program for its rigor and recognizing students for the high pass rate on the National Council Licensure Exam (NCLEX).
Nursing student representative Kanicia Hendricks stated, "As a nursing student, I am truly excited about the tremendous potential that this new school offers. I eagerly anticipate the positive impact it will have on our educational journey and the future of nursing in the Virgin Islands."
The project also includes renovation in the adjacent parking area, new underground utilities, sidewalks, and a new pedestrian bridge connecting the building to the adjacent UVI Medical Simulation Center. The building, designed by Renee M D'Adamo, AIA Architect, LLC and constructed by DS&R Construction, LLC is expected to take 18 months to complete for opening in 2025.
The new building will replace six modular buildings erected in 1997 adjacent to the Melvin Evans Center. Those buildings will be repurposed to serve other campus needs.
For more information, contact pr@uvi.edu.