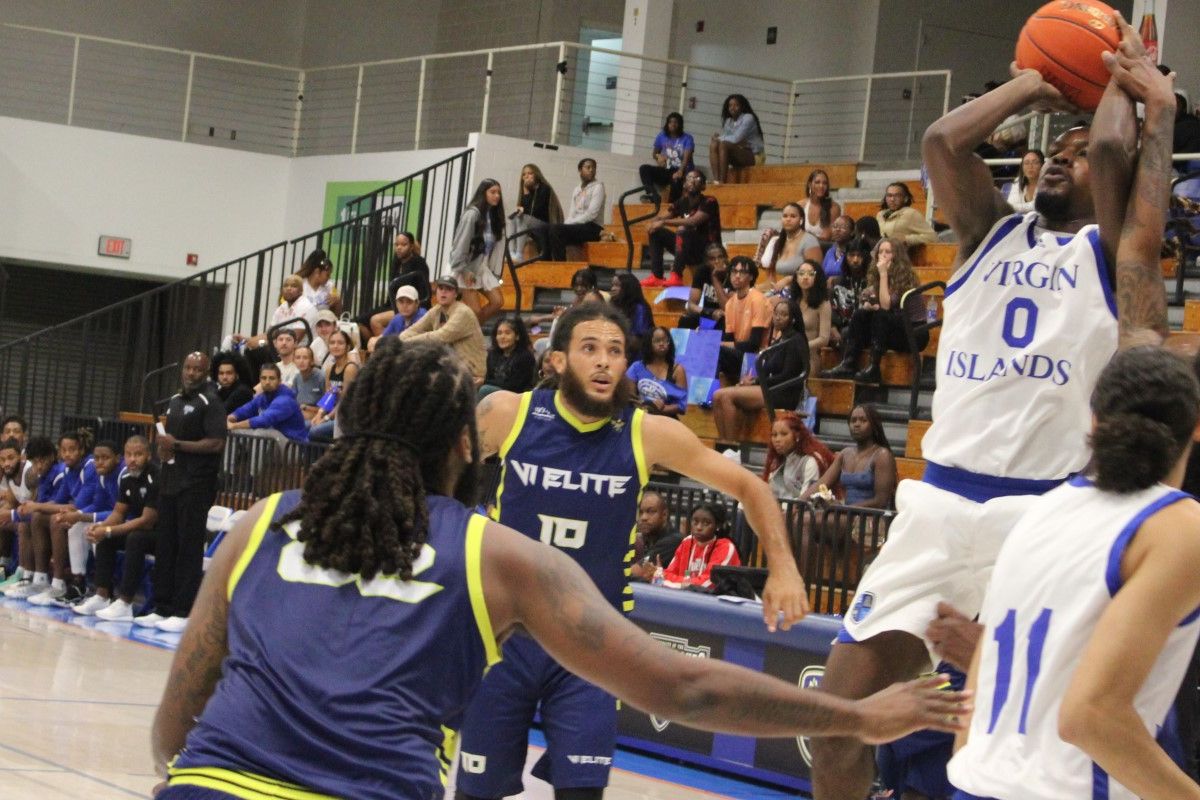 Junior guard Jalil Langston led the University of the Virgin Islands (UVI) men's basketball team to an 88-82 exhibition game win over the V.I. Elite Pros 88-82 at the Elridge Blake Sports and Fitness Center on Friday night. Langston exploded for 19 of his 21 points in the second half to help guide his team to the win.
Preseason All-GCAC player Nathan Shaw-Clarke posted a double-double of 16 points and 10 rebounds. Shaw-Clarke effectively distributed the ball from the guard position as he dished out seven assists, while also making 7 of his 12 field goal attempts.
The Buccaneers led for most of the first half and took a 40-33 lead into halftime.
UVI came out hot in the second half, going on an 11-0 run to take their largest lead of the night at 18 points. The Bucs were in control of the contest from the tip-off until falling behind late in the game as the teams traded baskets down the stretch.
"The game of basketball is a game of runs and we showed veteran leadership by staying poised when they came back and took the lead," said head coach Shannon Taylor. "Overall, we played solid as a team and took note of where we have to improve."
A three-point shot by Langston on an assist from Jalen Monroe allowed the Bucs to take the lead for the final time in the game. Shaw-Clarke sealed the win with a late steal to halt the comeback by the V.I. Elite Pros.
As a team, the Buccaneers dominated the paint, outrebounding their opponent 54-32. The Bucs also scored 50 of their 88 points down low while holding their opponents to just 16 points in the paint.
Another Buccaneer who shined was Monroe as he also recorded a double-double with 15 points and 11 rebounds. Monroe was the anchor on the defensive end of the floor, recording three blocks and three steals in the game.
For the V.I. Elite Pros Khalid Gerard led the way with 24 points.
The Buccaneers hit the road as they head to Miami, Florida to take on St. Thomas University and Florida Memorial University in back-to-back games on November 15 and 16.
About UVI Athletics
The University of the Virgin Islands (UVI) is a member of the National Association of Intercollegiate Athletics (NAIA) and, as of July 1, 2023, competes in the Gulf Coast Athletic Conference (GCAC). Entering the 2023-24 season, the Buccaneers will begin their 17th season of athletic competition. As the only Historically Black College or University (HBCU) in the Caribbean, UVI currently sponsors six sports, including men's and women's cross country, men's and women's basketball, and men's and women's outdoor track and field.
For more information on UVI Athletics, visit UVIAthletics.com