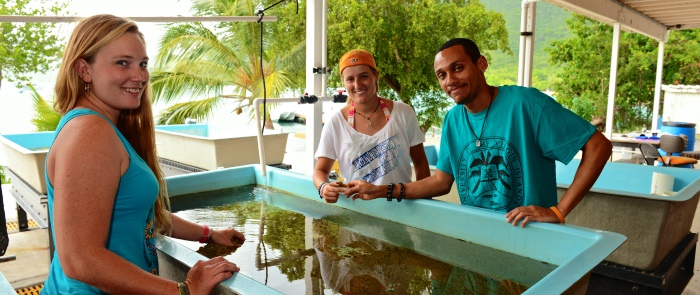 College of Science & Mathematics
Master of Science in Marine & Environmental Science

Current Students - 2022 Cohort
Darian Braddy - Good day! My name is Darian Braddy. I am from Savannah, GA, where I received my B.S. in Marine Sciences and a Data Analytics certificate at Savannah State University this year. I have done research on sea level rise and the effects on the local Savannah oyster population. I also did two research projects on small-scall vertical and horizontal migrations of the periwinkle snail related to tidal cycles and heights. I spent last summer on Ossabaw Island, GA as a sea turtle technician. I love diving and my goal at the University of the Virgin Islands is to study coral reef restoration and expand my knowledge from tidal marsh environments to tropical/mangrove environments. I also love coastal tourism and informing the public about the benefits of the ocean and the dire need to ensure marine health. I am super excited for this next step in my marine journey!

Avery Coble, National Science Foundation Scholar - Hi! My name is Avery Coble. I moved to St. Thomas from Tarpon Springs FL, but have lived all over. I graduated from UC San Diego with a B.S. in Marine Biology. While attending, I volunteered on the 100-island challenge run by Dr. Stuart Sandin, where I found my passion for corals. During this time, I also interned at the Clearwater Marine Aquarium working on baseline data collection, and with Manta Trust in Micronesia studying the reef manta ray's migration patterns. After I graduated, I worked for a while at the Clearwater Marine Aquarium where I primarily worked on research and education. I am very excited to continue my education and be a part of the MMES program

Corinne Johnson - Hi I'm Corinne! I am originally from Arizona but I grew up all over the world. I developed my love for the ocean and turtles when we took a family trip to Greece and I saw sea turtle conservation efforts on the beach. I graduated in 2017 with a double major in biology and sustainability from Arizona State University. While at ASU, I studied the social behaviours of resident hawksbill turtles off the coast of Maui, Hawai'i. During this project, I discovered my passion for behavioural ecology and the conservation impact it can have. At UVI, I will be studying territoriality of juvenile hawksbill turtles and I can't wait to get started!


Stefanie Maxin -

Hi everyone! My name is Stefanie, and I'm originally from Texas where I graduated with a degree in Marine and Freshwater Science from the University of Texas in Austin in 2021. During my time as an undergraduate, I worked on a few different projects which mainly centered on using passive acoustics to monitor populations of marine fish

species, and

analyzing the behavior and cognition of marine mammals. Following graduation, I worked for the Marine Mammal Center's Monterey Bay location where I assisted in the rescue, rehabilitation, and release of marine mammals (mainly sea lions!

), and

furthered my passion for marine science and conservation efforts. I am looking forward to starting this next chapter of my academic

career, and

will be working with Dr. Rick Nemeth's lab. My project will consist of using passive acoustic data to both help better understand the recovery of the local Nassau grouper population, and to quantify sounds made during the spawning activity of yellowtail parrotfish.

Madison Miele, National Science Foundation Scholar - Hey, I'm Madison Miele! I've lived in Washington State my whole life. I just recently graduated from Western Washington University with a bachelors degree in marine biology in 2022. I have loved marine life ever since I was a kid, especially when I started snorkeling and scuba diving. Last summer I studied abroad in Turks and Caicos where I conducted research on sharks, turtles, and rays! I fell in love with Caribbean waters and all the animals in it. Along with that, I have interned with a pacific mammal research team in Washington State where we study harbor porpoises and seals. Everything in the ocean amazes me and I can't wait to have more experiences in the Virgin Islands! Im very interested in shark or tropical fish research. I'm super excited to get a Masters in Marine and Environmental Science at UVI and can't wait for the adventures that come with it!

Natalie Monnier -

Hello! My name is Natalie Monnier, and I am from Wilmington, NC. I graduated from North Carolina State University and received my B.S. in Biological Sciences with a concentration in Ecology, Evolution, and Conservation. While attending college, I interned at the North Carolina Aquarium at Fort Fisher. This was where I discovered my passion for working with marine animals. The year after I graduated, I accepted a position with Bald Head Island Conservancy tagging and monitoring the island's nesting loggerhead sea turtles. Since

then

I have worked with several different sea turtle species in North Carolina, St. Croix, Antigua, and Texas. After 5 years of nesting field work, I am ready to continue my education with the MMES program at UVI. I look forward to working with Dr. Paul

Jobsis

and starting research on the sea turtle population around St. Thomas. When I'm not hanging out with turtles, you can find me in the water trying to catch a wave.

Gregory O'Neill, National Science Foundation Scholar -

Hey everyone! My name is Gregory O'Neill. I am from Mesa, Arizona, and graduated from Northern Arizona University with a bachelor's in biology. I was born in Rocky Point, New York which is where I gained an interest in the ocean. When I moved to Arizona, it wasn't until high school that I met Mr. Thomas

Demassa

. Mr.

Demassa

taught marine biology and even ran a marine bio club. He inspired me to pursue a career in marine biology. In my last year at NAU, I studied abroad at the University of the Virgin Islands. During my undergrad year at UVI, I assisted the Sea Turtle Club, and Conservation Club, and did zooplankton sample analysis for one of the previous MMES members. I enjoyed my year studying abroad so much that I decided to come back for my master's. I am currently a Research Assistant in Dr. Richard Nemeth's Lab where I assist with

their

Reef Bay Project. In this project, we are looking at how the feeding patterns of Parrot Fish affect the sedimentation around St John. For my thesis, I will be investigating the effects an invasive seagrass (

Halophila

stipulacea

)

has on the feeding, home range, and growth of juvenile Yellow Tail Snapper (

Ocyurus chrysurus

) around St Thomas. I will be conducting this research under the guidance of Dr. Richard Nemeth. I am very excited to return to UVI for the MMES program and gain more experience in the scientific field as well as work alongside many talented and knowledgeable individuals.

Kianna Pattengale -

Hi! My name is Kianna. I grew up in Northern California before getting my degree in Biology with an emphasis in Wildlife Ecology and Conservation from the University of Nevada, Reno (Go Pack!).

Sadly

this was landlocked, so during my time here I also studied abroad in Costa Rica where I was able to conduct research with the University of Costa Rica on the spatial distribution of brittle stars and sea cucumbers. This experience made me fall even more in love with marine biology and conservation. In my free time I can always be found outside diving, snorkeling, hiking, or sailing. I am thrilled to be a part of the MMES program!

James Powell, National Science Foundation Scholar - Hello! My name is James, and I hail from Warrenton, Virginia. My love for the ocean developed while completing my SCUBA instructor rating in Cozumel, Mexico in 2019. It was then that I decided to return home to complete my bachelor's degree in Environmental Science at the Virginia Commonwealth University. I am excited to be joining the MMES program and aim to build a career that will enable me to share my passion of the underwater world through research! During my time at UVI, I will be working with Dr. Cruz-Rivera on the degradation models of sargassum species and the effects of golden tides on Caribbean coastal sustainability.

Kaitlin Rommelfanger - My name is Kaitlin Rommelfanger, I grew up in Fond du Lac, Wisconsin. As a kid, one of my favorite pastimes was hunting for crawdads and and frogs in and around the creek in my grandparents backyard. I graduated in 2016 from the University of Minnesota Twin Cities wIth a BS in Genetics and Microbiology. After my undergrad a job opportunity took me out to Southern California where I have been working at a plumbing certification company and spending free time volunteering with the California Wildlife Center Marine Mammal Rehab team and the Aquarium of the Pacific.

I am thrilled to be joining the MMES cohort, and turning my longtime hobby into my career. I look forward to working with Dr Edwin Cruz-Rivera in has lab studying Sargassum!

Jordan Silva - Hey! My name is Jordan Silva and I am from Louisville, Kentucky. I graduated a few years ago with a B.S. double major in Biology and Environmental Science. Since I graduated, I have worked in environmental restoration, natural areas and land management, and in a microbiology lab. Ever since I was a kid, the ocean is where I wanted to be! I love surfing too, so if anyone ever needs a surf buddy, I am always down! Coming from Kentucky, there was not much opportunity to study marine life but, in my undergrad, I went on a trip to Belize and was studying coral diversity among the different reefs. This trip is what made me realize that I wanted to continue my education towards marine science and it was a great way to combine my love and passion for the ocean and career interests. So here I am now following that dream. I am always up to learn something new and offer a helping hand! I look forward to starting the MMES program and working in Dr. Edwin Cruz-Rivera's lab.

Sabrina Sorace - Hi, my name is Sabrina Sorace. I am originally from Maryland; however, I received my degree in Marine Science with a concentration in Biology and a minor in Environmental Studies from Eckerd College in Florida. While I was at Eckerd College, I studied the concentration of microplastics in the Tampa Bay area and within the digestive tracts of manatees residing in Tampa. But after interning at Mote Marine Lab in their sea turtle conservation and research program, I discovered my interest in fieldwork and herpetology. After three nesting seasons with greens and loggerhead sea turtles, I decided to take the next step in my career and pursue graduate education. I will be continuing to work with sea turtles under the guidance of Dr. Paul Jobsis, studying the hawksbill sea turtle nesting populations on St. Thomas.
Current Students - 2021 Cohort
Amanda Badai - Hi my name is Amanda Badai. I am originally from New Jersey, however I have resided in the Florida Keys for the past few years. I graduated in 2017 with a Bachelor of Science in Marine Biology from the University of New Haven in Connecticut. I completed a thesis where I determined if nematocysts from Aiptasia sp. and Cassiopea sp. could inhibit bacterial growth. After college I interned for Mote Marine Laboratory in their Reef Restoration Program where I gained experience in coral husbandry. I then had animal care experience with parrots and manatees at Miami Seaquarium and learned about their manatee rescue program. After Miami I moved back to the keys to become a Biologist at Florida Keys Aquarium Encounters where I gained experience in elasmobranch and tropical fish husbandry. Other specialties there were water quality and animal training and manatee rescue. I look forward to studying and gaining more experience in coral disease and research with the MMES program.

Shamoy Bideau - Hey, what's good? My name is Shamoy Bideau, I'm from St. Croix, but was raised in St. Lucia, where I first found my love for the ocean attending youth forums surrounding ocean resource conservation. I graduated from the University of the Virgin Islands with my B.S. in Marine Biology in 2020. I am a member of Dr. Marilyn Brandt's lab, as a Research Assistant on the SEAS coral restoration project. Through my time at UVI, I amassed new skills which I think are beneficial to my future, but I'm not done yet - always up for learning something new. I'm excited to see what this new chapter holds for me.


Taylor Brunson, National Science Foundation Scholar -

Hi! My name is Taylor. I'm originally from Memphis, TN where I was sadly landlocked, but I received my B.S. in Marine Science-Biology from the University of Tampa in 2020. While at UT, I conducted a lab study on the geometric morphometrics of Bahamian seahorses. But after interning at Mote Marine Lab as a sea turtle tagger, I discovered that my passions lie with field research, and more importantly, with sea turtles. After two nesting seasons with loggerheads and greens, I've decided to pursue a graduate education to advance my professional and academic careers. I am looking forward to working with Dr. Paul Jobsis and his lab to study the movement and habitat use of green sea turtles in the bays around USVI.

Alex Cormack, National Science Foundation Scholar - I'm Alex Cormack, born and raised near Syracuse, New York. I graduated from SUNY College of Environmental Science and Forestry here with a B.S. in Environmental Biology. I'm a Sea Education Association alum, there I sailed the Lesser Antilles studying Yellow Porites and their relative abundance on unhealthy reefs where I really finalized and confirmed my direction toward marine science. I'm excited to get to diving in the Caribbean, as most of my experience has been exploring New York's lakes and rivers for the last few years. I haven't finalized my advisor placement or thesis project yet, but I am well versed in coral community dynamics yet open to study something completely new. I am passionate about just about anything underwater and am ready the next leg of my journey at UVI!

Dr. Rebecca Gibbel - I am enthusiastic to be joining the MMES cohort and Dr. Brandt's lab, in order to study coral disease- particularly the epizootic SCTLD that has so seriously damaged the Caribbean reefs. My early years were spent on Tortola in the BVI, when the reefs were in far better condition and before coral diseases were prevalent. I earned my bachelor's degree from Harvard, my doctorate in veterinary medicine from Tufts, and I did a post-doc internship in surgery and medicine at Penn. Since then I have been practicing veterinary medicine in New York City, but I have always been strongly drawn to environmental conservation. I've worked at the NY Aquarium and learned about land-based coral husbandry, and in a genetics lab at the Museum of Natural History, studying deep sea black corals until the pandemic shut the lab down. Joining me in this next life chapter, are my dive buddy husband Mark, and our paralyzed dachshund Lola.

Zachary Gregory, National Science Foundation Scholar - My name is Zachary Gregory. I am from Washington State and received a bachelor's in marine biology from Western Washington University. During my undergrad I found myself fascinated by habitat forming species such as anemones and corals. This fascination led me to many opportunities such as running independent experiments on coral bleaching in the Sea of Cortez and spent a summer aiding in propagation of corals such as Acropora Palmata and Acropora Cervicornis through MOTE Marine Laboratory's Coral Reef Restoration Internship. I also spent my time volunteering in aiding WWU's Surfrider Club with beach cleanups and organizing public outreach events. I have spent the past two years working with one of Washington's native tribe where I have worked on monitoring salmon populations, restored riparian habitat, and aided in climate modeling. I am excited that my path has brought me to the MMES program at UVI, and for the experiences I'll get during my time at St. Thomas.

Kayla Halliday, National Science Foundation Scholar - Hello all, my name is Kayla Halliday and I was raised here on St. Thomas, US Virgin Islands. I have recently graduated with my B.S. in Marine Biology in May of 2020 here at the University of the Virgin Islands and I am very excited to be starting the MMES program. From the time I first learned to snorkel, around the age of 3, I have always been curious and mystified by the ocean and all the creatures that reside there. Over my adolescent and adult years, my passion to protect my home and the waters that surround it grew, which is one of the reasons why I am choosing to further my education. My career goal is to be an ecological consultant here in the Virgin Islands. I am very interested in land/sea interactions and human/sea life interactions. During my time in the MMES program I will be working with Dr. Kristin Wilson Grimes on advancing mangrove restoration. My thesis will focus on the bettering out planting for mangrove propagules

Elizabeth Harris, National Science Foundation Scholar - Hi, my name is Elizabeth Harris, I am originally from Kansas City, Missouri. I received my undergrad degree at Missouri State University with my B.S focused on wildlife biology. My biggest interest in undergrad was freshwater invertebrates and stream ecology. My interest in marine biology sprouts from visiting family on the coasts. During my undergrad, I got to study away with SEA Education sailing around the lesser Antilles studying coral reefs. While a graduate student, I would love to explore coral reef invertebrates and coral reef ecology for my thesis. My hobbies include crafting, hiking, and anything outside or on the water.

Taylor Hobbs - Hello! My name is Taylor Hobbs and I am originally from California. I graduated in 2017 with a B.S. in Environmental Science: Conservation Biology and minored in Interdisciplinary Arts and Cultural Studies. My main interests involve animal cognition, animal behavior, and marine social science. I firmly believe that the best way to address some of the most critical threats to our planet is through collaboration. I caught the travel bug young and have spent most of my adult life traveling and working either at various marine research stations or as a scuba diving instructor. Marine biology has been a passion of mine since childhood and even though I am not from the tropics, it has always felt like home! Other than that, I love rock and roll, all animals, and scuba diving! If anyone ever needs a scuba buddy, let me know, I am always around for a dive!

Erin Hollander - Hello! My name is Erin and I am originally from Northern California. I grew up spending every spare minute outside either hiking, swimming, playing water polo, or boogie boarding in water that is much colder than USVI! Whether it's open water swimming, snorkeling, or scuba diving, once I'm in the ocean, it's pretty hard to get me to leave. After high school, I attended UCLA where I majored in marine biology. There, my favorite research experience was spending a quarter abroad in Tahiti studying giant clams and algae! I fell in love with marine ecology (woohoo, algae!) and I am so excited to continue research with Dr. Tyler Smith's lab.

Sierrah Mueller, National Science Foundation Scholar - Hi all! My name is Sierrah Mueller. I am from Asheville, North Carolina where I spent the majority of my time outdoors hiking, camping and exploring the Blue Ridge Mountains. I graduated from UNC-Chapel Hill with degrees in Biology and Spanish. While at UNC-CH I spent a summer studying marine resource management in the Turks and Caicos Islands which solidified my desire to further study tropical marine ecosystems. After graduating from UNC-CH I moved to the FL Keys and worked in marine science education as well as with local non-profit organizations on marine conservation initiatives. Since the Keys, I have lived in the Cayman Islands working as a dive instructor. I have a passion for traveling and exploring new cultures, which led me on a backpacking trip across Southeast Asia where I got to dive some of the world's best coral reef ecosystems. I will be studying fish ecology under the guidance of Dr. Richard Nemeth looking at life history and habitat analysis of redtail parrotfish (Sparisoma chrysopterum).

Laura Palomino - Hi everyone! My name is Laura Palomino, and I am originally from Cali, Colombia. Growing up in Miami, I developed my interest in marine science by snorkeling, scuba diving and sorting through sargassum on the beach. I graduated from the University of Florida (GO GATORS!) with a Bachelor of Science in Interdisciplinary Marine Science and have been working in the marine conservation field for the past 4 years. I have enjoyed working for several non-profits, Florida Fish and Florida Fish and Wildlife Conservation Commission, Biscayne National Park, and the University of Miami. My background in education, coastal ecosystems, and citizen science has led me to pursue a graduate degree with Dr. Kristin Wilson Grimes. My research at UVI will be centered on mangrove restoration and community engagement.

Julia Plotkin - Hello! My name is Julia Plotkin and I am originally from Texas where I earned a Bachelor of Marine and Freshwater Biology from the University of Texas at Austin in 2017. After graduation I dove into the field doing critical habitat restoration and trail access in Southern California with the American Conservation Experience followed by almost 2 years in the Philippines as a Coastal Resource Management volunteer with the U.S. Peace Corps. My passion for community engagement, ecosystem-based management, and stakeholder driven science landed me here in St. Thomas working with the Division of Fish and Wildlife at the Department of Planning and Natural Resources. I am eager to push myself as a scientist in the MMES program while exploring my research interests in blue carbon, habitat restoration, and coastal resilience. I look forward to learning how to best create a sustainable intersection of marine environment and society!

Adeline Shelby, National Science Foundation Scholar - My name is Adeline Shelby and I am originally from Dallas, Texas! I turned a 4-hour drive to the nearest beach to 15-minutes when I decided to go to the University of Miami. I graduated in 2019 with a B.S. in Marine Science and Biology. During my time there I helped conduct research on staghorn coral in an ocean acidification laboratory, interned at the Center for Sustainable Development in Cape Eleuthera, Bahamas, and studied abroad in the Galapagos Islands. I've become particularly interested in coral conservation and restoration. So, I am happy to be interning with Coral Restoration Foundation in Key Largo, Florida this summer where I get to assist with reef monitoring, harvesting, and outplanting! I'm very excited to get to continue this kind of work as a research assistant for Dr. Tyler Smith.

Davis Strobel, National Science Foundation Scholar - Hello!! I'm Davis Strobel from Charleston, South Carolina. I grew up in a Scouting family which catalyzed my love for nature and through scuba diving at a young age I found my life goal of becoming a marine scientist. I attended Arkansas State University (Howl Yes!) for my B.S. in Wildlife, Fisheries, and Conservation while playing rugby full time. Since my graduation in 2019 I've been fortunate enough to work at some amazing marine labs in Puerto Rico, Florida Keys, and the Virgin Islands. At these labs I worked on parasitology, microbial ecology, coral restoration, and educational outreach. My favorite part about this career path is my ability to make direct impacts in and out of the water, whether it's out planting coral or teaching the public about marine conservation I'm in love! I hope to one day start my own nonprofit focusing on coral restoration, educational outreach, and eco-tourism.

Race Stryker - I am originally from Montana, but I have lived in the U.A.E. and Florida for many years. I graduated from the New College of Florida with a degree in Environmental Studies and Political Science. I am interested in a wide range of topics like epiphyte conservation, plant insect interactions, forestry ecology, food security, and herpetology, but my interests are primarily guided by my desire for climate action. My undergraduate thesis focused on the intersection of mosquito control policies and climate change mitigation objectives in Florida's mangrove forests. I think coastal ecosystems offer some of the best opportunities to create positive change for the environment, and for the people that depend on healthy ecosystems. I am excited to be in the MMES program at UVI, and I look forward to working on the VI-EPSCoR "Ridge to Reef" project with David Hensley. Outside of school, I enjoy hiking, gardening, and cooking. I am hoping to learn more about fishing and diving while in the VI.

Lila Uzzell - Hey, my name is Lila Uzzell and I was born and raised on St. John, Virgin Islands. I received a B.S. in General Biology from the University of North Carolina at Asheville in 2017, where I researched two pitcher plants (Sarracenia) and their hybrids. After completing my degree, I bicycled across the USA and then began working for the Atlanta Botanical Garden's Conservation & Research Department as their Conservation Assistant & Field Biologist. I love working with rare and native plants, but also have a rooted passion for the marine life I was surrounded by growing up. After three years at the Botanical Garden, I returned to St. John in 2020. When not working at my local dive shop, you can find me outdoors hiking, diving, freediving, surfing, or hanging at the beach with friends! I am so excited to be home and become a part of UVI's MMES program. My hopes are to pursue a thesis surrounding coral reef ecology or mangrove ecology.
Previous Cohorts - Current Students
Natasha Bestrom - Hi my name is Natasha Bestrom. I received my B.S. in Biology with an additional major in Environmental Studies from Hollins University in 2018. While studying at Hollins, I participated in several research projects studying coral abundance and health, fish biodiversity, and green sea turtle grazing behavior around St. John, USVI. I also explored anthropogenic impacts on the marine organisms within mangrove ecosystems through a study abroad program with the School for Field Studies in Bocas del Toro, Panamá. Ultimately, I focused my undergraduate senior honors thesis on the population dynamics of Acropora palmata (elkhorn coral), in St. John. Here at UVI, I am working under Dr. Marilyn Brandt as a research assistant to re-establish the monitoring program of both Acropora palmata and Acropora cervicornis (staghorn coral), in the USVI. For my thesis, I will be investigating disease in Acropora palmata in relation to enterococci levels in the marine environment.
Kayla Budd - Hello! My name is Kayla Budd, and I am from the small town of Hymera, Indiana. Growing up, I was always fascinated by nature and especially by the ocean. I earned a B.S. in Ecology and Environmental Biology from the University of Wisconsin - Eau Claire. There the Ronald E. McNair Postbaccalaureate Acnievement Program encouraged and enabled me to participate in several undergraduate research projects and to study abroad. During an internship at the Charles Darwin Research Station in Galapagos, Ecuador, I reafirmed my love for marine life, research, and marine ecology. My passion lies in finding effective solutions that work both for the environment and for the people who depend upon it. I am currently working with Dr. Richard Nemeth to address terrestrial sedimentation and inform watershed management by engaging the public through a social media app and examine the fate and behavioral changes of coral-associated cleaner gobies following disease outbreaks. I spend my free time volunteering as part of the St. Thomas Coral Disease Strike Team or photographing the beautiful island I now call home. Contact: budd.kayla.a@gmail.com
Jenna Cheramie - Hey y'all! My name is Jenna Cheramie and I was born and raised in Houma, Louisiana, 45 minutes south of New Orleans. I graduated from LSU (Geaux Tigers!) with a B.S. in Natural Resource Ecology and Management and a concentration in Wildlife Ecology in the Spring of 2020. While at LSU, I had many research opportunities across the world, including an internship in South Africa studying Great White Sharks, a study abroad program in Mozambique, and a shark tagging trip out of Alabama, all of which allowed me to hone in on my desired field of study in conservation-related sensory biology of sharks! I am an avid scuba diver, adrenaline junkie, traveler, and adventurer. After skydiving five times, jumping from the world's tallest bungee bridge, and cage diving with Great Whites, my current adventure is in Dr. Rick Nemeth's lab at the University of the Virgin Islands, where I am studying how differences in foraging habitat affect the reproductive rates of Yellowtail Parrotfish (Sparisoma rubripinne) at two spawning aggregations in Reef Bay, St. John.
Maksym Cohen - Hello! My name is Maksym Cohen and I graduated from the University of San Diego with degrees in Environmental and Ocean Sciences and International Relations. I spent much of my undergraduate career surveying coastal areas for microplastic density and assessing its impacts on local marine life. My background is in physical oceanography and ocean circulation which has led to my interest in the work of Dr. Sennai Habtes. My research at UVI will be centered on the impacts of wave and current action on Red Grouper larval distribution. I hope that work in this field will create opportunities for myself in fisheries in the future.
Lindsay Dade - Hey! Originally from southern Maryland, I'm currently an MMES graduate student at the University of the Virgin Islands. After completing my undergraduate degree at Virginia Wesleyan College, I traveled and volunteered at a Marine Conservation Center in Cambodia, where I learned reef survey techniques and discovered my passion for scuba diving. Since then I've worked as a Divemaster and Scuba Instructor in Barbados, Grenada, and here on St. Thomas. I currently work with Dr. Marilyn Brandt on coral restoration and disease. My interests include how factors such as water quality and disease influence coral recruitment in the US Virgin Islands.
Allison Holevoet - Hiya! My name is Allison. My undergraduate years at the University of Rhode Island were spent working towards a B.S. in Marine Biology and immersing myself in marine research. Funded by an NSF EPSCoR Fellowship the summer before my junior year, I was transplanting healthy staghorn and elkhorn corals onto shallow, degraded reefs in the Caribbean to document the habitat change of juvenile damselfish. A desire to elevate my research skills led me to conduct an independent project my senior year concerning the dislodgement force to wave exposure of a tropical gastropod, Cittarium pica. Post graduation, I followed my scientific curiosity of fisheries to the waters of Alaska where I spent three years collecting data for in-season fisheries management. My passion for tropical research and a hunger for my next professional development led me to the University of the Virgin Islands to complete a thesis on novel methods for mangrove restoration with Dr. Kristin Wilson Grimes.
Nicole Krampitz - Hey everyone, my name is Nicole! I am originally from Dallas, TX and, despite being far from the ocean, grew up with a fascination of all things marine. I graduated from the University of Miami in the spring of 2020 with a B.S. in Marine Science and Biology. As an undergraduate, I worked in a coral acidification lab looking at how pH and thermal stress impact coral growth and photophysiology. When not in school, I try to spend as much time as I can on or in the water, whether that be through competitively swimming, fishing, or diving. In addition, I am passionate about volleyball, art, and traveling — which led me to study abroad twice: once in Paris and once in the Galapagos. As a first year MMES student, I'm excited to continue my journey by studying corals with Dr. Tyler Smith and working as a research assistant for the Territorial Coral Reef Monitoring Program. For my thesis, I will be looking at the demographic impacts of Stony Coral Tissue Loss Disease (SCTLD) in the U.S. Virgin Islands.
Reagan Mason - Hi, my name is Reagan Mason! I am working with Dr. Tyler Smith for my thesis, looking at the variation in Caribbean coral response to thermal stress and sedimentation! I am also working with the Territorial Coral Reef Monitoring Program with Dr. Smith as a part of a research assistantship. I'm originally from Old Saybrook, CT, where I grew up exploring Long Island Sound. I received my B.S. in Organismal Biology and minors in Spanish and Leadership Studies from Christopher Newport University in Newport News, VA. During my time there, I did research on oyster restoration in the Chesapeake Bay, which solidified my interest in marine biology. I also had the opportunity to participate in a National Science Foundation REU at Mote Marine Laboratory in Sarasota, FL, where I worked in the Coral Health and Disease Lab. It was there that I truly solidified my passion for coral research, and started me down the path to the MMES program at UVI here in St. Thomas!
Andrew McGregor - Hello everyone, my name is Andrew! I grew up in the Twin Cities area of Minnesota and received a B.S. degree in biology with a minor in animal ecology from Iowa State University. My interest in marine sciences came from my undergraduate research experiences at The University of the South Pacific in Fiji and the University of Southern Mississippi's Gulf Coast Research Lab. I developed an interest in sea turtles while assisting in a project that studied green and hawksbill turtle foraging behavior around the outer Fijian Islands and have wanted to continue studying these organisms in a graduate program ever since. For my thesis project, I will be working with Dr. Paul Jobsis to study the in-water habitat use and movements of hawksbill sea turtles in Brewers Bay, USVI.
Naomi Scott - Hello! My name is Naomi Scott and I'm a graduate student in the MMES program at the University of the Virgin Islands. I'm originally from Chicago, IL but I earned my Bachelors degree in Biology with a minor in Environmental Science from the University of Tampa. I'm interested in renewable energy so my research revolves around the ways renewable energy sources can be used in aquaculture. In collaboration with Dr. Sennai Habtes I hope to build a portable aquaculture lab that is powered by solar photo voltaic energy and can be used in the field. When I'm not in class I enjoy teaching Science 100 to undergraduate students and researching new innovations in solar energy.
Matthew Souza - Hi, I grew up in Massachusetts with the ocean an hour drive to my east and the mountains to my north and west. My childhood was spent camping, hiking and spending time on Cape Cod. I received my B.S. degree in Environmental Science with a concentration in marine science and minors in biology and environmental anthropology from the University of Massachusetts, Boston. While there I worked as a laboratory assistant in the Byrnes Laboratory and assisted in a study looking at the impact of rising sea levels on salt marsh zonation. My undergraduate research project examined factors influencing crab species abundance and distribution in Nantucket seagrass beds. After graduation, I worked as a teaching assistant at Shoals Marine Laboratory in Maine. My research interests include the interaction between anthropological impacts and the coastal marine habitats. At UVI I will be studying the impacts of the invasive seagrass (Halophila stipulaceaon) on the queen conch (Lobatus gigas) under the mentorship of Dr. Edwin Cruz-Rivera. I enjoy teaching and am currently a teaching assistant in the undergraduate class, Natural World:The Caribbean. My hobbies include skiing, biking, hiking, and anything on the water.
Olivia Diana - Good Day! My name is Olivia Diana. I am originally from Massachusetts but finished my undergrad at Virginia Wesleyan University with a B.S. in Biology. Three months later I moved to Saint Thomas, USVI to pursue my masters and work with Dr. Cruz Rivera on comparing beaches for microplastic density depending on the sargassum density. I completed research on using death assemblages as indications of environmental recovery and presented the work at the International Crustacean Conference 9 (ICC9) in May 2018. I decided to study in the Virgin Islands after study away trips to both Belize and Costa Rica taught me about the ecological importance of protecting the tropical coasts. Contact: olivia.diana@students.uvi.edu