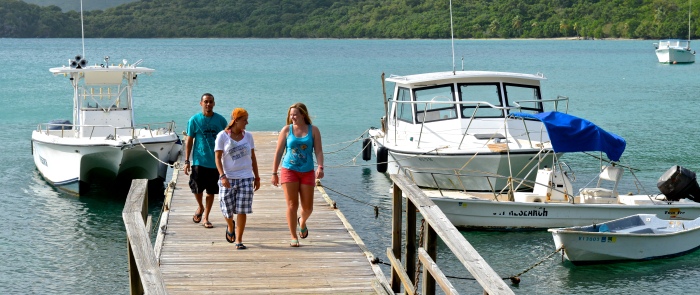 College of Science & Mathematics
Master of Science in Marine & Environmental Science
Considering applying to MMES?
Entry Requirements and Application
The application period opens November 1 and closes March 1. Applicants will be notified of their acceptance status by April 1. Prospective students with interest in a partcular research assistantship position may submit their application up until March 17, 2023. It is imperative that applicants follow directions precisely to ensure that applications reach the correct UVI program and are processed on time. If an applicant has any questions about the application process, they should contact the MMES Program Coordinator at sophia.mckenzie@uvi.edu.
Please note that the program does not have a minimum GPA requirement. The program also does not require that you identify an advisor before applying. However, we strongly encourage you to contact faculty who share your interests to see if they have available openings on their research team. Please see our "Research" tab for research areas and associated faculty.
Application due date and decision timeline:
Complete applications for this program, including recommendations, must be received by March 1. Applications received after this date may not receive full consideration.
To be considered for financial aid, please complete the Free Application for Federal Student Aid (FAFSA)
The MMES admissions committee will meet shortly after the March 1 deadline. We expect to contact applicants by April 1 with application decisions. Those who are accepted will be asked to respond to the offer of admission by May 1. If a space becomes available, wait-listed candidates are accepted in the order they are ranked.
To apply to the MMES program, please complete the following checklist of requirements (be sure to complete all items, 1 through 6):
1. Program Application online form. Please be prepared to complete this web form in one sitting.
Information you will need to complete the Program Application:
Citizenship information
GPA, hours completed and/or degree information for all undergraduate and graduate (if applicable) institutions you are currently attending or have attended
TOEFL scores (if applicable)
List of academic honors, fellowships, scholarships and other awards received
Names and affiliations of three (3) persons who are acquainted with your academic work and/or experience in your proposed field of study
A 750 word or less statement of purpose identifying your goals and objectives in pursuing a master's degree in UVI's MMES program, and the unique perspective(s) you contribute and how those might be assets to the program. If you have already identified MMES faculty you are interested in working with, please be sure to include this information as well.

2. Three (3) letters of recommendation must be completed by an evaluator and submitted through the web form by the application deadline. The program application system will not automatically notify your letter writers. It is the applicant's responsibility to send the link to their letter writers and to ensure that letters of recommendation are submitted by March 1. (Note: Do not use a service, such as Interfolio, to send the recommendations as our recommendation cover form asks about the candidate in more detail).
3. A curriculum vitae (cv) or résumé must be submitted with your application. Please email your cv by the application deadline to mmes@myuvi.net.
4. Official transcripts of all undergraduate and graduate level work are required.
Electronic transcripts are preferred and should be emailed to mmes@myuvi.net. Please notify MMES Program Coordinator at sophia.mckenzie@uvi.edu when electronic transcripts are ordered. Applicants should request the registrar of each institution attended to send transcripts directly to the MMES Program Coordinator, rather than the UVI Admissions Office. For hard copy transcripts, please use the following address:
MMES Program Coordinator
College of Science and Math
University of the Virgin Islands
#2 John Brewers Bay
St. Thomas, VI 00802-9990
Please note that mail takes approximately one to two weeks longer for mail to arrive in the US Virgin Islands than on the mainland; therefore, we strongly urge applicants to request transcripts at least one to two months before the application deadline.
If an applicant is completing their degree at the time of application and if they are accepted to the Masters program, they will have to produce proof of having been awarded a baccalaureate degree prior to being allowed to matriculate.

It is highly recommended that applicants would have completed the following coursework within the past ten (10) years:
Three (3) semesters of some combination of General Biology and General Chemistry, including at least one semester of Biology
One (1) semester of Calculus and one (1) additional semester of Calculus or a course in the area of applied mathematics, biostatistics, statistics, and quantitative research methods
Additional suggested courses include upper level Biology, Chemistry, Physics, Economics or other social science coursework.
Individuals without the stated coursework are invited to contact the Program Director to discuss their background and preparation for the program.
5. Proof of English competency for international students for whom English is not a first language, such as TOEFL scores.
6. Complete the online graduate application and pay a $25 application fee. You must also complete the Program Application in addition to this application (See Number 1). Instructions for paying the $25 application fee will be sent after the March 1st deadline. The application fee will be due April 1st.
International Students
The MMES program welcomes international applicants. Please read the International Student Manual for additional application directions (PDF document and form) and contact the MMES Program Coordinator.
Transfer Students
The MMES program welcomes inquiries from potential transfer applicants. Please contact the MMES Program Coordinator. The following policy, as stated in the UVI Graduate Bulletin, applies:
A maximum of six graduate credits earned at another university or college may be accepted towards the fulfillment of the requirements for a graduate degree. Only credits earned within the last five years at a grade no lower than B will qualify for acceptance under this regulation. Students should request that an official copy of their graduate transcript be sent to the Admissions Office for consideration of courses to be transferred.
Potential transfer applicants should note that transfer credits may only be counted towards electives, and may not replace any of the first year core courses of the MMES program.