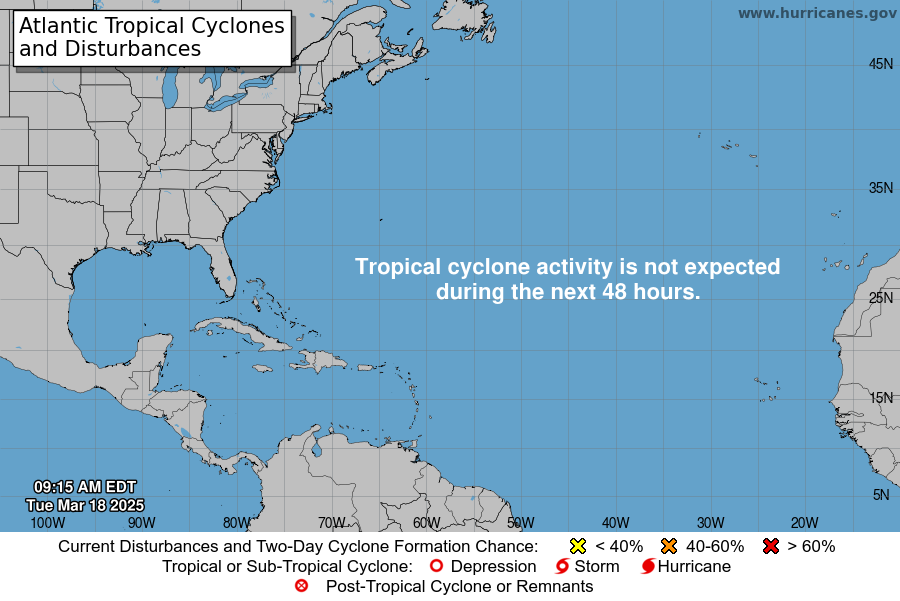 Click to view forecasts and analysis from the National Hurricane Center. 
UVI to Close in Advance of TS Laura
In preparation for the approach of Tropical Storm Laura, the University of the Virgin Islands will close both of its campuses at 4:30 p.m. today, Friday, Aug. 21, 2020. Tropical Storm Laura is projected to pass between St. Thomas and St. Croix in the early hours on Saturday morning. 
Non-essential employees, who may be on campus, are asked to secure their works stations before leaving for the day. UVI's Physical Plant has completed all campus preparations for the storm, including closing shutters and placing sandbags by door thresholds. Any employee on campus should remove any items from windows or the floor prior to leaving campus. UVI's campuses will remain closed until further notice, with only essential employees having access.
Visit the UVI Emergency Preparedness page, www.uvi.edu, for updates. The UVI community is asked to monitor UVI communications. Status updates will be available on the homepage of the UVI website, www.uvi.edu, and on social media:  www.facebook.com/uvi.edu, twitter.com/uvi_edu, and instagram.com/uvi_edu. 
Information on steps to prepare for inclement weather can be found on UVI's Emergency Preparedness webpage via this direct link:  Emergency Preparedness.   All UVI students and employees are encouraged to sign-up for UVI Bucs Alerts emergency messages, which is used to share critical information via text messages and e-mail. Participants can simply add their cell phone numbers and e-mail addresses to the "Personal Information" page in UVI's BanWeb accounts.
For more information, contact: Public Relations Office at (340) 693-1057 or at pr@uvi.edu.
Be First to Know …… 
Classes Cancelled…?
Imminent Weather ……..?
What's Your Next Move in an Emergency……??
Sign up for UVI's Bucs Alert 
Don't wait until there is an emergency to sign up to receive critical information via text messages and e-mail. Login into MyCampus and go to the BanWeb section.
Go to the "Personal Information" section and simply add your cell phone numbers and e-mail addresses. This system is used for timely emergency info & notifications. Always be in the know.
Official public notifications are also shared on social media. Follow us on Facebook- https://www.facebook.com/UVI.edu ; Twitter https://twitter.com/UVI_edu and  Instagram https://www.instagram.com/uvi_edu/. 
UVI uses several systems to keep members of the University community informed during emergency situations.
UVI Website:

Audience Gateways:  
Homepage (depending on the level of the emergency)