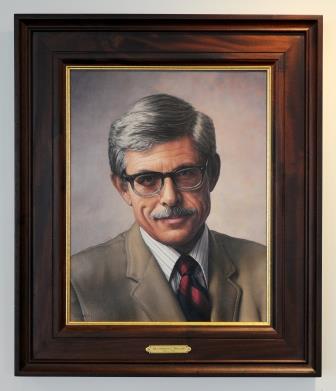 Dr. Lawrence C. Wanlass - UVI's First President (1962-1980)
Dr. Lawrence C. Wanlass was the first President of the then College of the Virgin Islands, and served in that capacity from 1962 to 1980.
Lawrence C. Wanlass earned his Ph.D. in political science at the University of California at Berkley in 1950, was the recipient of the prestigious Willard Dawson Thompson Memorial Scholarship, and a finalist as a Rhodes Scholar in Utah. He taught for many years at Mount Holyoke College in Massachusetts, co-founded the American Society for Political and Legal Philosophy, and authored Gettell's History of Political Thought (1953). He was then assistant to the president at Sacramento State College in California. Becoming the first president of a new university, the chance for a "pioneering role" in a new venture, appealed to both him and his wife Anita, and so they moved their young family to St. Thomas.
Upon his selection, Dr. Wanlass immediately developed the Board of Overseers, a diverse group of over 100 people hand-picked to lend prestige and "gravitas," as he put it, to the fledging institution. Presidents of nearly 20 colleges and universities signed on, as did professors and administrators, along with members of the United States Congress and the Kennedy Administration. The list included prominent congressmen, attorneys and justices from abroad. Also included were former Governors Morris F. de Castro and William H. Hastie. In addition, there were wealthy and influential people with connections to the islands, such as Margaret Mead, Theodore Sorenson, Hubert Sugden, who later would donate his St. Croix home to the College, and Henry Reichhold, who would endow the Reichhold Center for the Arts.
Dr. Wanlass was instrumental in the establishment of the College of the Virgin Islands initially offering 2-year transfer programs in humanities, social sciences, physical science and mathematics, business administration, engineering and teacher education, as well as occupational programs in business management, accounting, executive secretarial studies, hotel and resort operation and management, electrical technology and construction technology and later was instrumental in the establishment of four-year academic programs; and in the accreditation of the College for five years by the Middle States Association.
Under Dr. Wanlass' leadership at the College of the Virgin Islands, the institution was designated with Land-grant status and a large endowment was bestowed on the College through federal legislation, and the institution received an endowment for the establishment of the Reichhold Center for the Arts.
In 1980, upon Dr. Wanlass' retirement, in honor of his accomplishments, leadership and impact that he had on the development of the College now University during his term as President and in honor of his outstanding service to the University, the people of the Virgin Islands and Caribbean, he was conferred the status of President Emeritus.
Dr. Wanlass and his wife, Anita, currently reside in California.