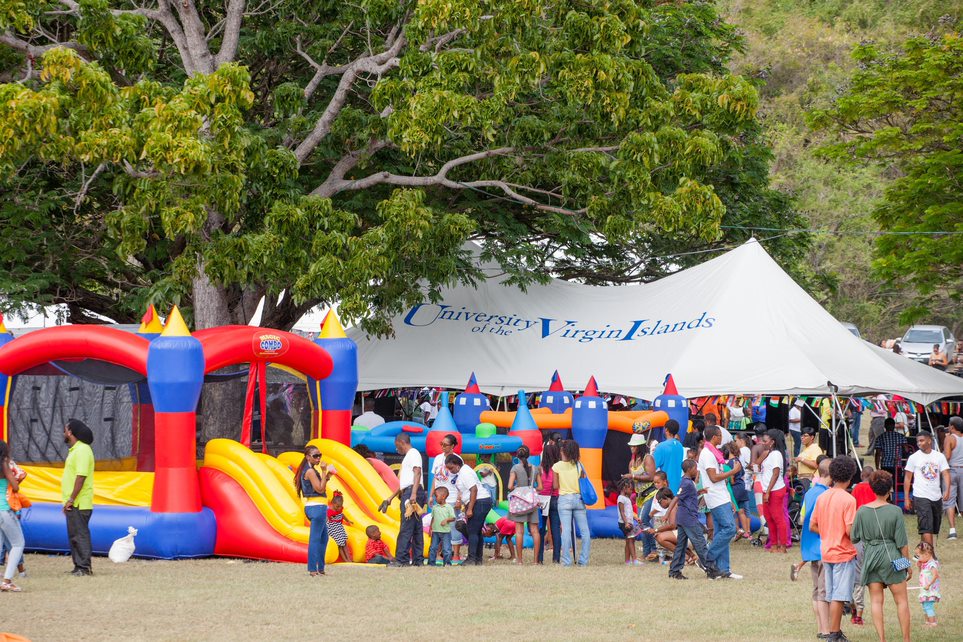 The University of the Virgin Islands' (UVI) annual "friendraiser" event, Afternoon on the Green, is back in person on Sunday, March 19, from noon to 5 p.m. at the Herman E. Moore Golf Course on St. Thomas. Live entertainment and an array of activities promise something for everyone at this year's event themed "A Burst of Culture, Fun & Cuisine at Afternoon on the Green 2023".
"In planning a signature event that not only helps raise money for student scholarships but also showcases the University and brings the community together to celebrate our culture, cuisine, and local talent, we strive to raise the bar each year," said Dr. Kyza A. Callwood, chairman of the event planning committee. "We are particularly pleased to be returning in person and anticipate welcoming everyone this Sunday."
Entertainment on the main stage will feature top local acts such as crowd pleaser and iconic representation of Caribbean talent, Cool Session Brass. Shaw HP, Soca sensation, straight out of Love City, St. John, will also headline at the event. Adult and youth performers include cultural dancers and school groups. (The schedule of events is subject to change.)
12:00 p.m. Welcome with DJ Kuntry and host, Tony T.
12:15 p.m. Opening Ceremony with remarks from UVI President David Hall
12:30 p.m. Ulla F. Muller Elementary School Phantastic Panthers Cheer & Dance Team
1:00 p.m. St. John Dancers
1:20 p.m. Mungo Niles Cultural Dancers
1:40 p.m. Car Show
2:00 - 3:00 p.m. Shaw HP
3:15 p.m. UVI Royalty and other special appearances
3:30-4:30 p.m. Cool Session Brass
4:30 p.m. Announcement of winners and scholarship recipients
5 p.m. Cool Session Brass
"Having been involved in planning the event for many years, I anticipate this year will be bigger and more exciting than ever," said Raul Carillo, co-chair of the planning committee. "We are offering a number of new attractions in terms of cooking demonstrations and family-related activities to always outdo past events and surprise the crowd."
Families will appreciate the extensive list of activities planned specifically for children by the Reichhold Center, Happy Times Entertainment and the VI National Guard. There will be much to keep kids happy, including giant dominoes and mini-golf, face painting, bounce houses and yard games. Anthony Felix will demonstrate to children how to make a Carnival headpiece and the Boy Scouts will demonstrate how to build a tent. Additionally, the VI Children's Museum will be conducting scientific experiments involving bubbles. Teens can view interactive displays about UVI's academic programs in the Academic Tent.
Food lovers will want to park their lawn chairs near the food tent where they will find a buffet of delicious foods, including pick-up saltfish and pumpkin fritters, barbecue chicken, salmon balls, stewed chicken, kallaloo, and many popular sides, including vegan and Ital options. An adjacent tent will be decorated with cakes, tarts, sweet breads, and other desserts made by home bakers and local chefs. Not to be missed is the native drink table and the Chef's Corner with live cooking demonstrations. At $3 per taste, attendees can sample as many food items as they wish and vote for their favorites. Prizes will be awarded to the overall top vote getter as well as the top three in each category: Main Dishes, Seafood, Vegetarian Dishes, Soups, Side Dishes, Bread, Pastries/Sweets and Native Drinks. There will be a variety of other prizes and all cooks will receive a reusable Afternoon on the Green shopping tote.
All proceeds from the event support the Edward Thomas Volunteer Scholarship which is awarded
to two high school seniors from Charlotte Amalie High School and Ivanna Eudora Kean High School. "While this event is all about engaging the community, as a University we remain focused on the ultimate goal of making a college education possible for Virgin Islands students," said Astrid Tuitt, office administrator, who holds the great responsibility of coordinating many of the event activities. "As a parent of a college student, it's worth all the hard work."
To assure comfort for all, attendees are encouraged to bring a lawn chair and wear hats and sunscreen. There is a $3 parking fee.
Event sponsors include Custom Builders, USVI Department of Tourism, VI Council on the Arts, VIYA, First Bank, VI Lottery, Office of Gun Violence Prevention, VI National Guard, Economic Development Authority, Community Foundation of the VI and Southland Gaming, Paradise Chiropractic, BVI Tourist Board, Cost U Less, RTPark, MSI Building Supplies, Department of Health Maternal & Child Health, Department of Health Communicable Diseases Division, A-9 Enterprises, Lew Henley's Sewage Disposal, Tropical Shipping, Merchant's Market, Fabien's Trucking, VI Waste Management Authority, Serafina Wellness and ProSolar.
To register as a cook, visit aog.uvi.edu or call (340) 693-1047 by March 14.
For more information about Afternoon on the Green, visit aog.uvi.edu.