The University of the Virgin Islands is celebrating the University's Emerald Anniversary with a revolutionary philanthropic initiative. "55 for 55: The great Alumni Challenge!" encourages UVI alumni to make history by achieving a 55 percent alumni giving rate in honor of the institution's 55th anniversary.
What is the 55 for 55 Challenge?
In 2013, during the university's 50 for 50 challenge, UVI alumni made history by raising the alumni giving rate from 13 percent to 42 percent. The alumni continued to push the envelope, raising the giving rate even higher in 2014 to 52 percent, a feat achieved by few institutions.
This year, UVI Alumni and friends are invited to accept the 55 for 55 Alumni Challenge to celebrate the Emerald Jubilee. Alumni and friends who make a contribution in the amount of $55 or more will automatically be entered into the running for an all-expense paid trip for two to our nation's capital Washington D.C. Sponsored by Ian Tomlinson '88 and Reginald Vigilante '88, UVI alumni and owners of OmniSystems, this prize includes two round trip tickets, two nights and three days in a downtown hotel, and two tickets to the newly opened Smithsonian's National Museum of African American History and Culture.
The Great Alumni Challenge Promotional Rules
Scholarships Galore
The "55 for 55" campaign is empowering alumni chapters in Caribbean nations to directly fund their very own academic scholarships. Alumni chapters in St. Kitts and Nevis, St. Maarten, the British Virgin Islands, Anguilla, St. Eustatius and Saba, have formalized scholarships which will benefit students from their countries. In honor of their institutional pride, all funds raised for each country will be awarded to a prospective or current student, as directed by the alumni scholarship.
Your generous donation to UVI can go toward student scholarships, ground-breaking research, programs, initiatives or our Schools and Colleges, etc. Click below to see the various islands' scholarship agreements:

Track Our Progress!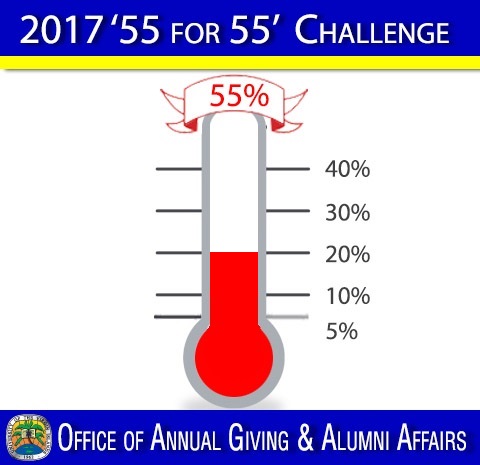 Match Gift Challenge
An anonymous donor made a surprise challenge gift in the amount of $55,000. If UVI alumni donate $55,000 collectively, the donor will match the contribution, making the total value of the gift $110,000.