Welcome to UVI-PULSE!
UVI-PULSE offers course content to individuals and organizations local to the US Virgin Islands, in the Caribbean and around the world through a continuous curriculum including the Certified PULSE Professional program.  Whether participants are looking for a short, informational webinar or a more in-depth coaching experience, UVI-PULSE will offer a complete catalog of original and customizable content.  Missed a UVI-PULSE webinar?  View now on UVI-PULSE on-demand.
UVI Partners with Gamey & Gamey Group to Bring UVI-PULSE to Ghana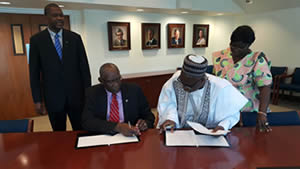 The University of the Virgin Islands has signed a Memorandum of Agreement (MOA) with Gamey & Gamey Group (GGG) in Ghana Africa to have a collaborative relationship which enables GGG to offer highly professional and practical training and consultancy services in their areas of specialization using world-wide best practices.  Read more.
---
People Using Language Skills Effectively
We are experts in Social Exchange™. We coach individuals, facilitate conversations, develop leadership capacity, deliver keynote addresses, and provide valuable books, articles, seminars, and online courses.
Prepare, Uncover, Learn, Search, Explain
We are confident that as individuals develop their ability to understand one another through conversation, their organizational loyalty, feeling of belonging and connection to each other strengthens their group experience. Subsequently, personal and professional performance improves.
Subscribe to UVI-PULSE today to receive inside access to UVI-PULSE content and early notice about UVI-PULSE events.  Receive PULSE founder Dr. Nancy Love's FREE eBook, PULSE: People Using Language Effectively, with your subscription.

Contact Information
UVI-PULSE
University of the Virgin Islands
#2 Brewers Bay
St. Thomas, V.I. 00802
(340) 693-1003 Office
(340) 693-1005 Fax
Email:  csap@live.uvi.edu