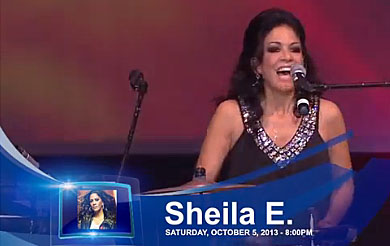 On Oct. 5, the Reichhold Center for the Arts will launch its 35th Anniversary as the Virgin Islands' premiere venue for fine arts and high-quality live entertainment. For this 2013-14 performance season Reichhold has developed a calendar of twelve dynamic and diverse performances, featuring world-renowned artists and genres never before featured on the Reichhold stage. Audiences will be thrilled by the likes of global superstars such as Sheila E., Common, Maxi Priest, world-class mezzo-soprano Denyce Graves, Brazilian songstress Bebel Gilberto, and others.
Reichhold has also expanded its Family Series from two to three shows, including a tribute to Micheal Jackson approved by the King of Pop himself, and a lively kids musical based on the best-selling children's book, "Click Clack Moo: Cows that Type." The ethnic diversity of the programming is also fresh, with Egyptian belly dancing and Indian dance including Bollywood. Fans of actor Lamman Rucker, best known for his work in Tyler Perry's "Why Did I Get Married?" film series, will be delighted to see him on stage with the return to live theatre at the  Reichhold Center for the Arts  with the production of "Black Angels Over Tuskegee."
"This year is undoubtedly one of the most cosmopolitan seasons to date," says Reichhold Center Director Nissa N. Copemann. "We're proud to present a line-up of performances that is as diverse, rich and exciting as the people of the Virgin Islands. We welcome everyone – from St. Thomas, St. Croix, St. John the BVI and Puerto Rico and even our stateside friends to come join us for enhanced amenities at our stunning venue and allow us the pleasure of delivering what we like to call the 'Reichhold Experience.'"
For more information on 2013-2014 presentations, visit the Reichhold Center website at http://www.reichholdcenter.com. Tickets are available online and by calling the Reichhold Box Office at (340) 693-1559.