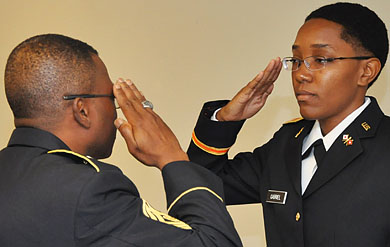 University of the Virgin Islands Reserve Officer Training Corps (ROTC) Cadet Shenelle Gabrielle was commissioned into the United States Army in December at a ceremony held on the St. Thomas Campus. Gabrielle now holds the rank of second lieutenant and will serve in the Active Army Component as a Signal Branch Officer. She is the first UVI student from the ROTC Program on the St. Thomas Campus to become an active duty commissioned officer. Gabrielle earned a bachelors' degree in Computer Science from UVI in 2012.
Photo: Second Lieutenant Shenelle Gabrielle, right, receives her first salute from Master Sergeant Russell Keller, Senior Military Instructor.
Lieutenant Commander Robel Ramirez, professor of military science at the University of Puerto Rico's Mayaguez Campus, administered the oath of office. "This is the most important day of a cadet's career," said Ramirez, adding that the commissioning ceremony culminates all the hard work of students. "I am extremely proud of Cadet Shenelle," he said. "She overcame a lot of obstacles." During training Gabrielle injured her ankle and spent years in rehabilitative therapy. "It has been a long, long road with the injuries, re-injuries, and training, but the non-commissioned officers and the officers kept pushing me," said Gabrielle. "I greatly appreciate it. I only have begun what I have to do."
The University of Puerto Rico's Mayaguez Campus hosts the Army ROTC program. Instruction is provided to students of the UPR regional colleges, Catholic University, Inter-American University, and both UVI campuses. Instruction is also provided in Ponce, San German, Arecibo and Aguadilla in Puerto Rico. Senior ROTC programs at the University of the Virgin Islands were established on the Albert A. Sheen Campus on St. Croix in 2005 and on the St. Thomas Campus in 2008. The UPR program is the second largest in the Army Cadet Command's Southeast Region.