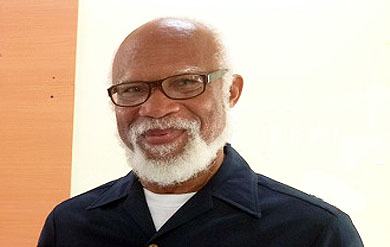 University of the Virgin Islands professor of economics Dr. Simon B. Jones-Hendrickson has been appointed dean for the College of Liberal Arts and Social Sciences (CLASS). He has been serving in the role of interim dean for CLASS since 2012.
Dr. Jones-Hendrickson brings a wealth of international experience and recognition to the role. He served in a diplomatic capacity from 2001 to 2004 as the ambassador of St. Kitts and Nevis to the Organization of Eastern Caribbean States, CARICOM and Association of Caribbean States. He also serves as the president of the Eastern Caribbean Copyright Licensing Association and has an appointment to the Editorial Board of the Journal of Eastern Caribbean Studies.
Dr. Jones-Hendrickson first came to the University of the Virgin Islands as an undergraduate student, earning an associate of arts degree in business administration. He went on to earn Bachelor of Science and Master of Science degrees in economics from Illinois State University, and a Ph.D. in economics from the University of Exeter in England.
 Dr. Jones-Hendrickson has authored publications and articles in the areas of economics, higher education and leadership, especially pertaining to the Caribbean. He has also produced a number of commissioned reports on matters relating to the Virgin Islands and the Eastern Caribbean. Dr. Jones-Hendrickson's teaching career with UVI began in the summer of 1972, as a lecturer in economics. He taught at the University of the West Indies between 1973 and 1976, and has been on faculty in the area of economics at UVI from 1976 to present. He was chair of the then Division of Social Sciences from 1993-1996.
As Dean of the College of Liberal Arts and Social Sciences, Dr. Jones-Hendrickson will continue to play a pivotal role as a member of the leadership team for the University's academic component. He plans to continue to work toward achieving the many goals outlined in the strategic plan, Pathways to Greatness.