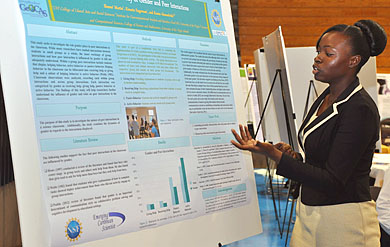 The public is invited to the University of the Virgin Islands' third annual UVI Research Day scheduled from 10 a.m. to 4 p.m. on Thursday, April 10, in the Sports and Fitness Center on UVI's St. Thomas campus and in the Great Hall on the Albert A. Sheen Campus on St. Croix. Research Day will showcase student and faculty research on community issues such as youth violence, ciguatera fish poisoning, the United States Virgin Islands census data online, marijuana legalization, colorism and college students, and social media. Research conducted by UVI faculty and staff will be featured in a variety of displays. Faculty and staff will also participate in roundtable sessions with interested persons.
"The purpose behind UVI Research Day is to share with the entire Virgin Islands public the exciting research that is taking place in all the colleges and schools of UVI, and also to expose high school teachers, counsellors and their seniors to the fields of study that could inflame the seniors' interest in a profession," said UVI Interim Vice Provost for Research and Public Service Dr. Frank Mills. "The roundtable discussions invite the community's direct participation."
Round Table Discussions Topics and Schedule:
St Croix:
| | |
| --- | --- |
| 1p.m. – 2 p.m.             |  The Legalization of Marijuana in the U.S. Virgin Islands |
| 2:30 p.m. – 3:30 p.m.     |  Transfer Day 100th Anniversary: Celebrations, Tribulations and the Future    |
 St. Thomas:                                 
| | |
| --- | --- |
| 11a.m. – 12 p.m.                                  | Planning for Science and Technology: Exploring Potential Areas for Future Research Focus in the U.S. Virgin Islands  |
| 1 p.m. – 2 p.m.    | GTC Bio-Diesel Project  |
| 2 p.m. – 3 p.m.  | West-Indian Lemongrass in the US Virgin Islands as a Preventative and TreatmentMethod for Prostate and Breast Cancer |
| 3 p.m. – 4 p.m | Preparation for the Conduct of Respnsible Research – A Modules Approach |
  "Research Day provides an excellent opportunity for our entire community to hear about the latest research of our faculty, undergraduate and graduate students," said Dr. Mills. "Parents and other adults will be delighted to see the level of work in which students are engaged. Bringing together the caliber of research done at the University of the Virgin Islands and sharing with the general public our findings is of extreme importance to the socio-economic growth of our territory."
"To ensure that high-school students territory-wide have an opportunity to take advantage of this opportunity was our main focus this year, hence making the event on a week-day, offering them special transportation arrangements," Dr. Mills said. "The breadth of the topics speak to the competence in our academy. It is one occasion that the community will be able to recognize that UVI is indeed on its path to greatness."
Many of UVI's research areas will participate including, the Center for Marine and Environmental Studies, Agricultural Experiment Station, the Eastern Caribbean Center, Virgin Islands Marine Advisory Service, Caribbean Exploratory Research Center, the College of Science and Mathematics' Biological Sciences, Chemistry and Physical Sciences areas, the School of Education, the College of Liberal Arts and Social Sciences, and the Masters in Marine and Environmental Studies program.
A publication featuring the abstracts and authors of current UVI research will be available. For information about UVI Research Day please contact Dr. Mills by e-mail at fmills@uvi.edu or by telephone at (340) 693-1027.