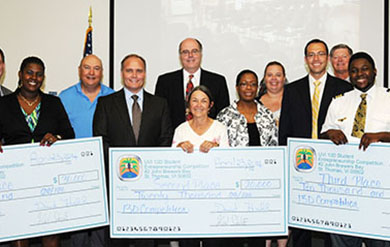 Three budding student entrepreneurs at the University of the Virgin Islands now have an additional $60,000 in funding with which to pursue their dream businesses following the final round of the University's annual 13D Student Entrepreneurship Competition held April 23, on the St. Thomas Campus.
Allison De Gazon, a student on St. Croix working on a master of business administration (MBA) degree, took home the top prize of $30,000 for her business plan named Cruzan Organix Farm. Second place, and a $20,000 prize, went to Patsy Breunlin for her project called Phantasea Tropical Botanical Garden. Breunlin is a non-traditional student enrolled in UVI's entrepreneurship program. Christopher Williams rounded out the prize winners taking $10,000 for his business model called Project A, a company that writes and produces children's books with a Caribbean theme. Williams is enrolled in the MBA program on St. Thomas.
De Gazon, who presented first, told the panel of eight distinguished judges that her business' goal is to solve a common problem in the territory. "Don't you get frustrated when you go to the grocery store and find poor quality produce, half rotten, but you have to pay the full price?" De Gazon asked. "Cruzan Organix Farm promises to ease the pain felt by consumers and grocers alike, by providing fresh, locally grown produce at much lower prices. Once in a while we may need a doctor, a lawyer, policeman or preacher in our life, but every day, three times-a-day, we need a dedicated farmer on his farm so that we can eat."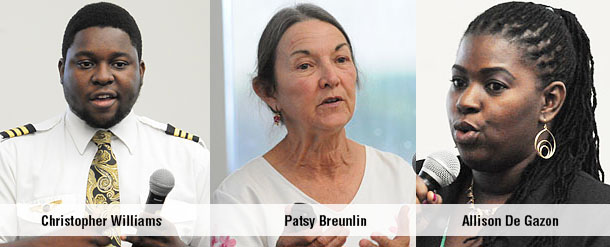 High School Entrepreneurship Competition
The UVI winners were joined, for the second straight year, by students from the territory's high schools participating in their own 13D Competition. Ericson Etienne, a tenth grader from Good Hope Country Day School on St. Croix, took the top prize of $1,000 for his business idea of producing what he calls Electro-luminous Clothing. Erickson's innovative clothing features wires that light up, and can be set to blink using sound activation. Judges also liked the plan from Charlotte Amalie High School eleventh graders Curtney Grell and Anneil Alexander for a video-game-based arcade business called AC International Arcade Association.  They received $500 toward fulfilling their dream business. A project called Fashionable Hoodies, developed by Muhammed Rachid and Nia Ward, also Charlotte Amalie eleventh graders, took third place and the $250 prize. Each member of the top three teams in the 13D High School Competition also received a Samsung tablet. 
Winners of the 13D High School competition were, from left, Muhammed Rachid, Schawandai George, Curtney Grell, Jamilyn Browne, Nia Ward and Ericson Etienne. Shown with them, from left-in back, are UVI Distinguished Entrepreneurship Professor Dr. Timothy Faley, UVI Professor Dr. Alex Randall, Innovative CEO Shawn O'Donnell, Jonathan Gula of 13D, UVI President David Hall, and UVI Professor Dr. Glenn Metts.
Innovative Scholarship Presentation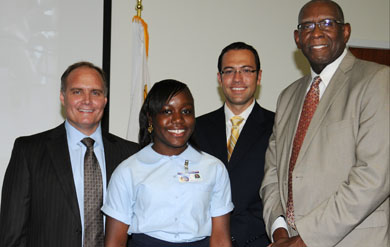 Innovative Scholarship winner Jamilyn Browne from Charlotte Amalie High School. Innovative Chief Executive Officer Shawn O'Donnell, at left, was on hand for the presentation, along with Jonathan Gula of 13D, and UVI President David Hall. O'Donnell and Gula were also among the competition judges.
Topping off the high school portion of the competition was the drawing for a one-year UVI scholarship to go to one student among the high school competitors. The scholarship was presented by Innovative, which is also an on-going sponsor of the University's entrepreneurship competition. The winner was Jamilyn Browne, a member of the fourth team in the competition. Browne and teammate Schawandai George's business idea was Fantazie Advertising and Marketing. They are also Charlotte Amalie eleventh graders. Browne's scholarship will cover UVI tuition and fees. It is valued at up to $5,000.
UVI President Dr. David Hall told participants that entrepreneurship has become one of the defining features of this University. "It is embedded in our strategic plan," Dr. Hall said. "We want all of our students to develop sensitivity to what it means to be an entrepreneur when they graduate. Each of you, by participating in this competition, has exposed yourself to ideas and inner strengths that can transform your lives. I applaud you for that."
Dr. Hall also commended the high school students participating. "For you, at this early age, to understand and practice what it means to be an entrepreneur is also life changing," he said.

Other UVI competitors were: St. Thomas student Kimberlee Smith, with a business idea called Nannies to the Rescue, which would provide child care services to students and staff at UVI; June Wyatt, an MBA student on St. Thomas, who wants to develop a company called VI Educational Consulting to assist high school seniors with college preparation and scholarship application; and St. Thomas communication majors Roda Osman and Brandon Bougouneau, of the WUVI Team which plans to develop a non-profit radio club for students to provide financial support for the University's radio station – WUVI 1090AM.
Competition organizer Dr. Glenn Metts, UVI's director of entrepreneurship education, described the difficult challenge the student teams presented to event judges. "Every one of these businesses is viable and should launch," Dr. Metts said. "The projects this year, as a group, were the best we have seen in the last three years. The students did a fabulous job."
The UVI 13D Student Entrepreneurship Competitions, for both high school and university students, were made possible by a $5 million gift from investment strategist and entrepreneur Kiril Sokoloff, the founder of 13D Research on St. Thomas. The gift also supports a Distinguished Professor of Entrepreneurship Endowed Chair and the Entrepreneurial Speaker Series at UVI. The 13D Competition is sponsored by Innovative Companies, which has made a significant long-term commitment to support the entrepreneurship effort.
For more information contact Dr. Metts, an associate professor of management at UVI, at (340) 693-1303.