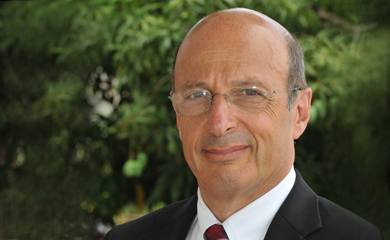 The University of the Virgin Islands has named Dr. Benjamin Sachs interim dean for the medical school it is developing in the Virgin Islands. In this position, Dr. Sachs is engaged in the early stages of preparing documentation for the Liaison Committee on Medical Education (LCME), the medical school accreditation organization for the United States and Canada, and developing the organizational structure of the medical school.
UVI announced plans to develop a medical school in the Virgin Islands, along with the receipt of a $30 million gift from New Generation Power and its Chairman Dr. Chirinjeev Kathuria to fund the school's development stage, at a Government House presentation in April. The UVI Medical School will be the only English-speaking medical school in the Caribbean accredited by the LCME.
"This in an exciting time for UVI and the Virgin Islands," said UVI President Dr. David Hall. "A medical school in the Virgin Islands would provide expanded health professional opportunities for VI residents, enhance the quality of clinical care in the Territory, increase the academic offerings of the University in the health professions, provide more health care research in the Virgin Islands and encourage economic development in the Territory."
"We are extremely fortunate to have someone of Dr. Sachs' caliber, experience and expertise leading this important effort. His determination, creativity and collaborative approach are already evident. He greatly increases our chances for success," said Dr. Hall.
 "I'm excited to be involved in the formative stages of this medical school that holds such promise, for both the young people of the Virgin Islands and wider Caribbean who want to become physicians, and for the potential of greatly improved health care delivery in the region," Dr. Sachs said. "I've had nothing but outstanding and really warm receptions from the physicians on St. Thomas, St. Croix and St. John. I've also met with the commissioner of health and with the heads of the health centers and hospitals over the last six weeks to get their support, which is critical to the success of this project."
Dr. Hall also noted, during his initial Government House announcement, that securing additional development and operational funding remains a primary goal for the medical school project and a critical component needed to support's Dr. Sachs' efforts to secure LCME accreditation. The University estimates that $10 million from local and national donors is still needed to make the medical school a reality and allow UVI to enroll its first class in 2016-2017.
Dr. Sachs, who is currently a senior lecturer at Harvard Medical School and at Massachusetts General Hospital, has a wide ranging background in clinical medicine, public health-health policy and finance/business administration, with extensive executive experience in physician and hospital management, as well as patient safety and healthcare.
From 2007 to 2013 he served as senior vice president of Tulane University in New Orleans, and dean of Tulane University School of Medicine. Dr. Sachs moved to Tulane in 2007 to help rebuild the school of medicine which, along with the university, sustained some $900 million in damage during Hurricane Katrina.
Taking advantage of the post-storm crisis, Tulane and Dr. Sachs played a major leadership role in regional healthcare reform designed to improve both the access to and the quality of care in New Orleans. Prior to Katrina, most uninsured people received their care in the Charity Hospital emergency room. By 2011, approximately 200,000 people received their care through 68, largely new, community-based clinics.
In 2010, then secretary of the Department of Health and Human Services Kathleen Sebelius announced a federal partnership with Louisiana and New Orleans designed to, according to the Times Picayune newspaper, place the city on the cutting edge of a new health care delivery system. It quoted Sebelius as saying, "It seems fitting that New Orleans and its people, who have shown the nation how to survive unthinkable tragedy, can now set an example for strengthening the nation's health care system into the future."
During Dr. Sachs' tenure, Tulane's School of Medicine was the recipient of the 2010 AAMC Spencer Foreman Award for outstanding community service. "Because of the dedicated and courageous faculty and administrators who returned after the storm, by 2013, all three missions of the school of medicine – education, research and clinical care – were much stronger than pre-Katrina," Dr. Sachs said.
Prior to Tulane, Dr. Sachs served 29 years at Harvard University in several senior administrative positions at the Harvard Medical School (HMS) and the Beth Israel Deaconess Medical Center (BIDMC). These positions included department chair of Obstetrics and Gynecology at BIDMC-HMS, the Harold H. Rosenfield Professor of Obstetrics, Gynecology and Reproductive Biology, and professor at the Harvard School of Public Health from 1989 to 2007. He also served as president of the BIDMC Physician Organization, an organization of 1,500 physicians, from 1999 to 2007.
He has been involved in a number of international healthcare initiatives, including fundraising for and the development of women's and children's health centers in the Philippines, Armenia and Ukraine, and extensive work in Central and South America, the Middle East and Asia.
A native of London, Dr. Sachs is the son of Holocaust survivors. He graduated from St. Mary's Hospital Medical School, now Imperial College London, and earned a degree in public health at the University of Toronto. He worked as a visiting scientist at the Centers for Disease Control in 1980, and completed the Program for Management Development at Harvard Business School in 1987. He is board certified in obstetrics and gynecology, and maternal fetal medicine.
###