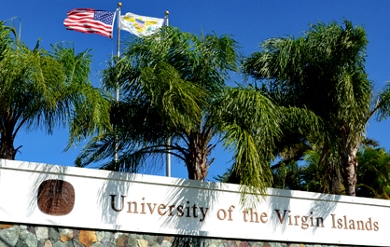 Five UVI student researchers took top awards for poster presentations at the Annual Biomedical Research Conference for Minority Students (ABRCMS) held in November in San Antonio, Texas. One UVI student also made an oral presentation at ABRCMS, which is the largest professional conference for minority students pursuing degrees in STEM fields – science, technology, engineering and mathematics.
They were among 17 UVI students who attended the conference, with most presenting posters based on their research. The prestigious conference drew 1,700 undergraduate students from 700 universities.
UVI's poster presentation winners were Ayanna Fredericks, Serena Joseph, Khalin Nisbett, Shelsa Marcel and Krystal Wynter. "This is the most wins ever for UVI," said Dr. Teresa Turner, who accompanied the UVI contingent of students along with Dr. Aletha Baumann, a member of the psychology faculty on St. Croix. Chantel Ibel made the oral presentation.
Dr. Turner said the winners included three students who conducted research with UVI faculty and two who conducted research on the mainland during summer research programs. Along with the recognition, each student received a $250 cash award.
UVI Student winners are, from left, Khalin Nisbett, Ayanna Fredericks, Krystal Wynter and Shelsa Marcel.
Ibel, a senior biology major, with a concentration in computational biology, made her oral presentation on the results of her research into molecular modeling done at the San Diego Super Computer Center.
Fredericks, a senior psychology major, won for presenting the best poster in the social and behavioral sciences category. She worked with Dr. Kimarie Engerman, a UVI faculty member, and Dean of Students Dr. Doris Battiste, both on St. Thomas, on a project analyzing alcohol and drug use among UVI students.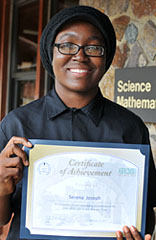 UVI winner Serena Joseph
Joseph, a junior biology major, who conducted research on parasites of hair sheep on St. Croix, won best poster in the microbiology category. She conducted her research with Dr. Robert Godfrey, director of UVI's Agricultural Experiment Station.
Nisbett, a senior chemistry major, studied synthesis of a natural product found in lemon grass. Her poster won in the chemical sciences category. She worked with Dr. Yakini Brandy, a UVI chemistry professor on St. Thomas.
Marcel, a senior computer science major, won the award in the molecular and computational biology category for her work on a computational method for analyzing binding to DNA. Her research was done with a mentor from the University of North Carolina at Chapel Hill.
Wynter, a senior psychology major, researched emotional and spatial learning and fear conditioning during the summer at the University of Iowa. Her poster won the award in the neurosciences category.
Along with undergraduate students, ABRCMS also attracts some 400 graduate students and postdoctoral scientists, and 1,200 faculty, program directors and administrators.
 "Although there were many categories and winners … UVI's record was truly outstanding," said Dr. Turner, who directs two student research programs at UVI that are funded by the National Institutes of Health. "The UVI students who presented their research all did an excellent job and represented the University well."
Dr. Turner said this year's five wins is a record for UVI students. She also said UVI and its students have participated in ABRCMS for the past 14 years.  
Dr. Turner also said UVI and off-island mentors who helped the student researchers should be proud. "I feel like almost everyone in the School of Science and Mathematics contributed by attending the Fall Research Symposium, asking questions, and giving the students practice in explaining their research," she said.
More on UVI's student research and scholarship opportunities visit the University's Emerging Caribbean Scientist Program section at http://ecs.uvi.edu.