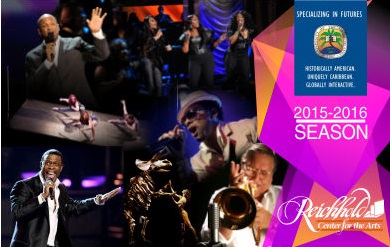 The Reichhold Center for the Arts unveiled its 37th season at their annual Business After Hours reception with a cadre of stellar performers and artistic performances. The event was held Thursday, September 3, 2015 inside the theater.
Following their successful 2014-15 season Reichhold Center  continues the mission of its founder Henry H. Reichhold, "…to enrich the cultural and social life of the University of the Virgin Islands and its community with programs and performances drawn from across the globe that exemplify the best human artistic expression."
The season kicks off on Oct. 3 as ten-time Grammy award-winning jazz trumpeter Arturo Sandoval takes the stage. A young protégé of the great Dizzy Gillespie, Sandoval is one of the most dynamic and versatile jazz performers of our time. Opening for Sandoval are Virgin Islands music legends Stanley & the Ten Sleepless Knights, with their Latin infusion of our native rhythms.
On Wednesday, Nov. 25 celebrate Thanksgiving with award-winning dance illusionist and choreographer Moses Pendleton with his modern dance company MOMIX. The company will perform Botanica, a magical tour of nature through dance and illusion. MOMIX has astonished audiences on five continents for more than 30 years.
Ring in the New Year, Jan. 23 with a 90's throwback performance featuring male R&B singer Keith Sweat. Sweat performs hits such as "Twisted," "Nobody," and "Make It Last Forever." Also, performing that evening is the all-female, new jack swing trio SWV singing classic R&B ballads "Weak," "Right Here" and "I'm So Into You." The night of R&B will be capped by Reichhold's famous after party.
On Feb. 6 it's a Gospel Jubilee with contemporary gospel legend Donnie McClurkin. McClurkin performs his endless hits, including "Stand" and "We Fall Down."
On March 5 be prepared to be amazed as the Printz Dance Project presents its production, Hoverspace. This fascinating performance consists of stage-within-a-stage that can raise, lower and tilt, all while skilled dancers perform contemporary movements in unison.
The season wraps up May 21 with a lively performance  from international reggae star, Shaggy. With a career spanning more than two decades and countless awards, Shaggy is one of the pioneers bringing dancehall music to the forefront of pop culture. From "Oh Carolina," to "It Wasn't Me," "Mr. Boombastic" and the 2015 billboard hit "I Need Your Love," it's undeniable that Shaggy's performance is one not to be missed. The 2015-2016 season definitely has something for everyone and will be one that excites the senses of both young and old.
The Reichhold Center's 37th season is sponsored by International Capital and Management Company, VI Lottery, Innovative, Virgin Islands Daily News, Marriott Frenchman's Reef Resort, Tropical Shipping and the VI Council on the Arts.
In keeping with past seasons Reichhold Center will continue its Arts in Education workshops, providing students with preview performances. The center will also continue to feature service provided by students in the University of the Virgin Islands Hospitality program.
In addition, opportunities for Stagebill booklet advertising, event sponsorship and season sponsorship are available for local businesses.
For more information on the Reichhold Center 2015-2016 season visit www.reichholdcenter.org, or contact Ian Turnbull at ian.turnbull@uvi.edu or (340) 693-1554.