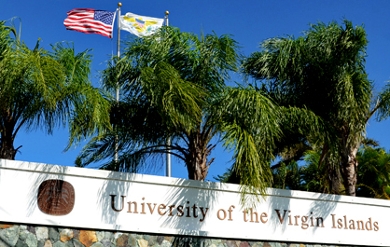 The University of the Virgin Islands offers condolences to the friends and family of an unidentified man found unresponsive near the St. Thomas Campus. The homicide occurred at approximately 12:15 p.m. on Wednesday, Sept. 3, on the sidewalk along the Julian Jackson Highway in the area of the Administration and Conference Center (ACC). The unidentified male was not a current UVI student or employee.
UVI Security and the VI Police Department (VIPD) were dispatched to the scene and found a young male who sustained several gunshot wounds. Other law enforcement officers, including officers from the VI Port Authority, responded to the incident. Vehicular access to roadways were restricted in the areas adjacent to the ACC building, John Brewers Bay and the Reichhold Center for the Arts. The UVI community was advised to avoid the area. An all clear was signaled at approximately 2:19 p.m.
"The University of the Virgin Islands is saddened to learn of the sudden and violent passing of a young man from our community," said UVI President David Hall. "We offer our condolences to the family and friends during this difficult time."
UVI takes the safety of the community seriously and will utilize all resources available to ensure a safe environment.
An on-going investigation into the incident is being conducted by the VIPD. The University will continue to cooperate with the VIPD. The University community and the general public are encouraged to contact the Police Department if they have any information concerning the incident. Please contact VIPD Detective Sofia Rachid at (340) 714-9807 or VIPD Detective Dwight Griffith at (340) 626-9164 to anonymously provide information. 
All UVI students and employees are encouraged to sign-up for UVI's Rave emergency notification system, which is used to share critical information via text messages and e-mail. Participants simply add their cell phone numbers and e-mail addresses to the "Personal Information" page in UVI's BanWeb accounts. Additional instructions on signing up for Rave are available from this direct link.