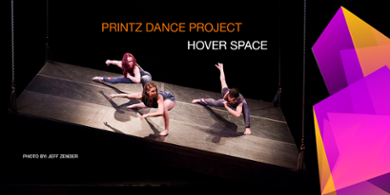 On Saturday, March 5, all are welcome to join the Reichhold Center for the Arts for an awe inspiring performance by the Printz Dance Project's "Hover Space" at 8 p.m. The Printz Dance Company (PDP), made up of a diverse group of dynamic individuals, will perform on a hovering stage that raises, lowers and tilts for a daring and beautiful presentation of artistry and dance.
"Hover Space is a bold and captivating display of agility, extreme engineering by the use of the "hovering floor," which demands concentration and focus for the dancers and technicians," said Reichhold Interim Director Denise Humphrey. "This dance company will bring a high energy performance of twirling, pressing and daring display of strength and creativity, which is sure to leave you breathless with nothing but amazement."  
The Printz Dance Project, a San Francisco based performance group, has been performing for 14 years under the leadership of Stacey Printz, artistic director.  Printz has transformed dance by merging a collaboration of different genres into a unique but interesting style of movement. A University of California, Irvine, cum laude graduate in sociology and dance, Printz has choreographed many shows across the nation and internationally. Her show "Hover Space" is a unique concept of inventive movement, and many have praised the show as a brilliant fulfilling performing art piece.
"The piece is about hovering in the middle ground, between the extremes, in the juicy, rich spaces where life really happens," said Printz. "This is the space where risk, action, fear, and movement thrive. And ultimately, it is the place where love lingers. To find contentment, it seems there must be an understanding of its precariousness - that ebb and flow and change are part of finding it."
The Printz Dance Company will host a Master Class Workshop at 6 p.m. on March 3, at the Reichhold Center. On Friday, March 4, the Center will be presenting an Arts and Education Workshop, which is sponsored by VI Council for the Arts and Innovative.
 "Hover Space" starts promptly at 8 p.m. Get your tickets early and don't miss this amazing show, said Humphrey. After the show there will be a question and answer segment between the dance company and those in attendance. The audience is encouraged to stay after the performance to learn more.
The Reichhold Center's 37th season is sponsored by International Capital and Management Company, VI Lottery, Innovative, Marriott Frenchman's Reef Resort, Tropical Shipping and the VI Council on the Arts. The Reichhold Center for the Arts is the flagship performing arts center for the University of the Virgin Islands.           
For tickets, come to the Reichhold Center's Box Office on UVI's St. Thomas Campus, call (340) 693-1559, or visit www.reichholdcenter.org. For inquiries into sponsorship and Stagebill advertising contact Ian Turnbull at ian.turnbull@uvi.edu or (340) 693-1554.