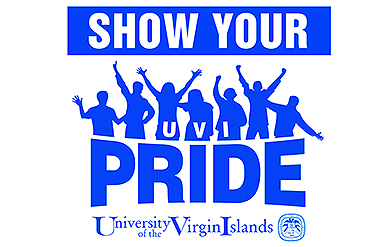 The University of the Virgin Islands will celebrate University Pride in the month of its charter, from March 18-30. Staff, alumni and students will showcase their Buccaneer spirit with events and competitions, on campus and online.
"Pride celebrations allow the University to reaffirm its commitment to producing graduates who are academically excellent, globally sensitive, entrepreneurially focused, emotionally and spiritually balanced, and committed to serving the world," said Stephan Moore, interim vice provost for Access and Enrollment Services, and dean of Student Affairs on the Albert A. Sheen Campus. "UVI Pride will be felt and represented not only in the U.S. Virgin Islands, but also in the various Caribbean islands and mainland states where UVI alumni are making positive contributions to their communities."
The festivities will kick off at 10 a.m. on Friday, March 18, with an official Charter Day program featuring Johnny Taylor Jr, Thurgood Marshall College Fund president and CEO.  This program will take place in the Administration and Conference Center on the St. Thomas Campus and will be teleconferenced to the Great Hall of the Albert A. Sheen Campus on St. Croix.  The first day of Pride activities will also feature the Queen Mary Walk/Run on St. Croix, various Charter Day celebrations, and a faculty verses student sport competition. 
Other highlights of Pride Week will include:
UVI Day of Service on St. Croix - March 28. 
Throughout the week, students, administrators, and alumni will be encouraged to wear the school colors, blue and white.  Meanwhile, the University invites members of its community to share memories and stories about UVI on social media, using the hashtag #UVIPRIDE.
Linda Smith, the director of Annual Giving and Alumni Affairs, has been an integral part of UVI Pride since day one, serving as the liaison between Pride celebrations and UVI alumni from around the world. "UVI has produced a lot of great leaders, and we want to take this time to celebrate our alumni, current students and staff," Smith said.  "UVI is a memorable experience, which is what makes our family so special.  We want to reconnect with our alumni and celebrate the University's 54th birthday, while at the same time gaining support from our community, the region and the world."
UVI Pride is also a way to expose high school students on all three islands to academic and extracurricular programs at the University.  On St. Thomas, Pride celebrations will take place at Charlotte Amalie High School on Tuesday, March 22. On St. Croix, UVI Pride celebrations will be held at St. Croix Central High and the Ivanna Eudora Kean High School on Tuesday, March 29, on Tuesday, March 29, and at the St. Croix Educational Complex on Wednesday, March 30.
March is UVI's Charter Month.  The University was established 54 years ago with a total of 47 students. Today it educates more than 2,000 men and women. Every year, members of the UVI community look forward to commemorating its history and celebrating its many successes.