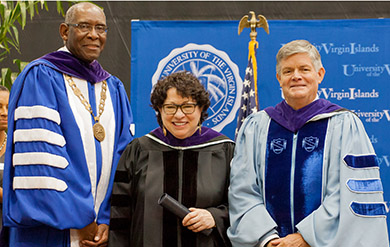 The University of the Virgin Islands hosted the Honorable Sonia Sotomayor, associate justice of the U.S. Supreme Court, on Feb. 9, at a Student Convocation held in the Sports and Fitness Center on the St. Thomas Campus. The event was live streamed to the Great Hall on the Albert A. Sheen Campus on St. Croix.
"In this centennial year that marks the legal alignment of the Virgin Islands with the United States, and during the 55th Anniversary of the University of the Virgin Islands, we are blessed to have in our midst a distinguished member of the highest court of this land," said UVI President David Hall.  "Sonia Sotomayor is the first justice of Hispanic descent, and the third female justice in the history of the United States Supreme Court."
Born in the Bronx, New York City, to Puerto-Rican-born parents, Sotomayor was raised by her mother after her father died when she was nine.  She graduated summa cum laude from Princeton University in 1976 and received her jurist doctorate from Yale Law School in 1979.  She was nominated to the U.S. District Court for the Southern District of New York by President George H.W. Bush; and to the U.S. Court of Appeals for the Second Circuit by President Bill Clinton.  In May 2009, President Barack Obama nominated her to the Supreme Court following the retirement of Justice David Souter. 
On Thursday, Justice Sotomayor was awarded an honorary doctors of laws degree from the University. President Hall also presented her with a commemorative medallion, which was commissioned by the University to mark the Virgin Island's Centennial and UVI's 55th Anniversary.  Sotomayor was the first to receive this commemorative gift.
President Hall thanked the Honorable Wilma A. Lewis, chief judge of the District Court of the Virgin Islands, for her efforts to bring Justice Sotomayor to the University. He presented a second commemorative medallion to Lewis. "We would not be here today and the Virgin Islands would not have been blessed with the presence of Justice Sotomayor if there was not an advocate – a person that was very committed to making this happen."
During the convocation, UVI students asked Sotomayor a variety of questions. Ki-Ana Tongue, a student attending UVI on the Sheen Campus, asked Justice Sotomayor what she thought were her greatest strengths and limitations as a U.S. Supreme Court Justice. 
"I'm dogged," said Sotomayor.  "I just won't give up. If I can't figure something out, I'll work at it until I do.  I'm not the smartest person in the room, but I work really hard."  She continued, "My greatest limitation is that I'm not the smartest person in the room.  I had that experience in college and especially in law school.  I often felt dumb at Yale Law School.  It's hard and very humbling to admit that."
When asked by Dwane Hendricks, an accounting major on the Sheen Campus, what she thought her success in being appointed to the highest court in the land contributed to this nation and its future, she said that if you're passionate about whatever it is you do, you will be able to make a difference and be meaningful to others.  "I came from a working class family in one of the poorest neighborhoods in the United States," said Sotomayor.  "When people see how far I've come, I hope that it gives them hope.  If I've changed one life, that's enough for me.  But if I can change more lives, then my life will be even more meaningful."
"One common misconception about me is that I am a Latina Justice," she said.  "I am a Justice.  All Justices have had different life experiences.  I am not representative of all Latinas.  My life experience gives me a point of view, but we have to respect the role we play in the greater society."
Brittane Peter asked the justice how she had addressed discrimination against women and minority groups. "There is more than one way to fight discrimination," Sotomayor said.  "Discrimination exists for different reasons, is expressed in different ways, and therefore needs to be addressed in different ways." She continued, "I have chosen in my life to do what I think is right at the moment, publically and privately, to end discrimination against me."
If you had one inspirational statement to say to millennials, what would it be, asked Devon Williams, a UVI student from the St. Thomas Campus.
"Don't travel to the road of success alone," Sotomayor said. "The day of my inauguration to the Supreme Court, everyone I had ever known was there.  Many of them had tears in their eyes.  Looking at them was how I knew I had succeeded."
At Thursday's convocation, DeWein Pelle, UVI Student Government Association president on the St. Thomas Campus, gave the student greeting and Jeanette Ferdinand, UVI Student Government Association president on the Sheen Campus, gave closing remarks.