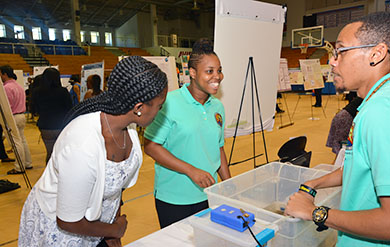 Members of the media are invited to cover and photograph the University of the Virgin Islands'  6th Annual Research Day from 9 a.m. to 3 p.m. on Friday, April 7, in the Great Hall on the Albert A. Sheen Campus on St. Croix, and at the Sports and Fitness Center on the St. Thomas Campus.  Research Day provides UVI students, faculty and staff the opportunity to showcase their research, which highlights diverse topics that impact the community. UVI students and faculty will be on hand with the results of their findings.  
This year Research Day will offer round-table discussions on both campuses on current social and development topics and feature many demonstrations.  
Roundtable topics include:
"Is Facebook Changing your Relationships?"
"Sin-Tax is the Only Way!"
What:             6th Annual Research Day
When:             Fri., April 7, 2017
Time:              9 a.m. – 3 p.m.
Where:            Sports and Fitness Center, St. Thomas Campus
                        The Great Hall, Albert A. Sheen Campus, St. Croix Campus
Contact:         UVI Public Relations Office (340) 693-1059