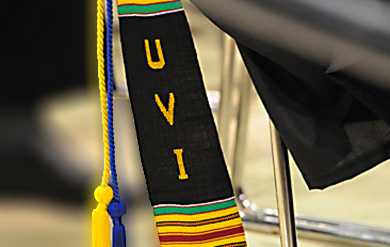 This year the University of the Virgin Islands will confer over 300 degrees students at the University's 54th commencement ceremonies on the St. Thomas Campus and on the Albert A. Sheen Campus on St. Croix.
The ceremony will take place on the St. Thomas Campus on May 17, in the Sports and Fitness Center and on the grounds of the Albert A. Sheen Campus on St. Croix on May 18. Both campuses will hold the ceremonies at 1:30 p.m. 
The keynote address will be delivered by acclaimed actor, producer, political activist and humanitarian Danny Glover who will receive an honorary degree from the University.
Local radio personalities, Athneil "Addie" Ottley of WSTA Radio and Former Senator Holland I. Redfield are slated to receive Honorary Doctorate Degrees in Humane Letters.
This year's class speaker on the Sheen Campus is Jaecena Howell and Che-Raina Warner will be the class speaker on the St. Thomas Campus.
Parking on the St. Thomas Campus will be available in the parking lot of the Reichhold Center for the Arts. Shuttle service will be provided to accommodate persons parking at Reichhold Center, Administration and Conference Center (ACC), and the upper campus.
WSTA 1340 AM will live broadcast St. Thomas' Commencement Ceremony. DaVybe 107.9 FM will broadcast the ceremony on St. Croix. WUVI 97.3 FM will simulcast DaVybe's stream online for St. Croix's Commencement. WTJX will live stream both Commencement Ceremonies, which can be seen on the WTJX's Facebook Stream - https://www.facebook.com/wtjx/ or on UVI's Facebook page - https://www.facebook.com/UVI.edu/ 
 

School of Business

St. Thomas

St. Croix

St. Martin

Master of Business Administration

6

  10

Master of Business Administration & Accounting (Dual Degree)

1

Master of Accounting

3

Bachelor of Business Administration

20

9

Bachelor of Arts

32

17

Associate of Arts

6

8

Total School of Business

68

44

School of Education

Master of Arts Education

4

2

5

Master of Arts School Guidance and Counseling

1

Master of Arts Educational Leadership

2

Bachelor of Arts

3

9

Associate of Arts

2

Total Education

10

13

5

School of Nursing

Bachelor of Science

25

12

Associate of Science

Total Nursing

25

12

College of Liberal Arts & Social Sciences

Master of Arts in Public Administration

4

3

Master of Arts in Psychology

5

2

Bachelor of Science

4

3

Bachelor of Arts

27

23

Associate of Applied Science

7

2

Total College of Liberal Arts & Social Sciences

47

33

School of Graduate Studies

2

College of Science & Mathematics

1 

Master of Arts in Mathematics for Secondary Education

Master of Marine & Environmental Sciences

17 

Bachelor of Science

31

3

Bachelor of Arts

3

1

Associate of Science

Associates of Applied Science

2

Total College of Science and Math

52

6
Statistics contained in this press release refer to degrees conferred in the fall (December 2017) and the spring (May 2018) unless otherwise noted.  Students whose degrees were conferred in December are also listed in the commencement booklet for the May ceremonies.  They also have the option of participating in the ceremonies.
Interesting graduate stories on St Thomas
Kriston and Ourieka Petty: From Newlyweds to Newly Grads
Married couple Kriston and Ourieka Petty are defying the odds that wedding at a young age sets one back from achieving one's dreams. The couple who began their studies in August 2015 will both walk in this year's commencement ceremony.
The Petty's recall naysayers telling them they were 'throwing away their lives.'  Among the slew of negative comments were accusations that they'd be too distracted by each other to focus on their studies and that they'd be not be ready to handle that kind of responsibility.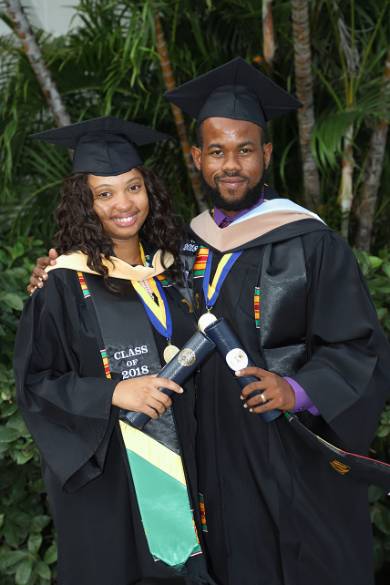 According to the Petty's, both 23, they were happy that they stuck to their dreams and remained committed to completing their undergraduate studies.
"We managed to prove that with hard work and dedication, anything is possible" said Petty. "Whether, married or not, one just needs the right kind of motivation in order to shine as bright as the sun."
When asked about plans for the future the couple assured that this isn't the end for them, they are committed to continued success.
"We do not plan to end the journey here either," said Petty. Our plan is to go to graduate school together in order to continue elevating ourselves."
Kriston and Ourieka, both originally from St. Kitts-Nevis, are happy they chose UVI to complete their Bachelor degrees. They believe that their accomplishment is testimony that at UVI any individual from different walks of life regardless of their circumstance or situation can and will succeed.
"Whether one is single, married, old, young, rich or poor, UVI is the place for them," said Petty.
Kriston and Oureika will both graduate summa cum laude with a Bachelor of Arts in Accounting and a Bachelor of Arts in Social Sciences with a minor in Environmental Science respectively. Summa Cum Laude is the highest honor added to a degree or a diploma for work that is considered to be the highest quality.
Che-Raina Warner:  Crowns, Titles, Microphones and the Podium
Che-Raina Warner, the undefeated pageant queen, is this year's class speaker on the St Thomas Campus. Also known for her work as a tutor in the Center for Student Success, Warner is excited to deliver this year's commencement address to the graduating class of 2018.
Though mostly known for her success in pageantry, Warner is a scholar student who received the Chairperson's award for excellence in Communication and earned a position on the dean's list every semester since her enrollment at UVI.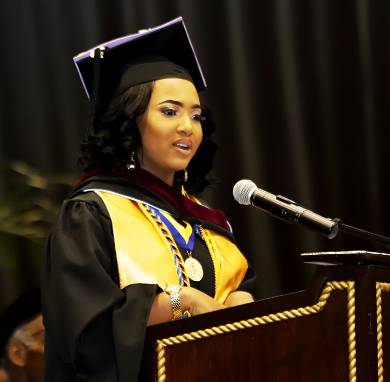 Warner, originally from St. Kitts-Nevis, will graduate magna cum laude with a Bachelor of Arts in Communication with honors. She attributes her success at UVI to the overwhelming support and encouragement she received from her friends and family in St. Kitts. According to Warner she had no choice but to excel and place her country above self.
"Hailing from the Federation of St. Kitts-Nevis, I was motivated simply by the mere idea that our twin island federation has great expectations for its people to dominate wherever we go and that has propelled me to do nothing short of making my country proud," said Warner.
She was crowned Miss UVI in 2016 and went onto win the Miss UVI Ambassadorial Title and the National Black College Alumni (NBCA) Hall of Fame Title also in 2016. Warner is only the second student to win the national crown in UVI's history. She said winning these titles meant juggling assignments, classes and ambassadorial duties in which she had to gain a certain mental balance.
"While I cannot say that I have absolutely mastered the art of balance, I was often times comforted by the words of my classmates who were amazed at how I managed to stay focused," Warner said. "Although it was a very challenging period for me, I take pride in having been a motivation to some student who felt that his plate was too full and he couldn't manage."
She also became involved on her campus beyond pageantry by working in the university's Public Relations Office as well as a radio host at WUVI – the school's student ran radio station.
"I've never known myself in all my schooling years to merely go to school," said Warner. "School for me meant being immersed in a host of extra-curricula activities."
Interesting graduate stories on St Croix
Jaecena Howell: From Graduation to Amazon
Jaecena Howell could not have asked for a better gift to celebrate her 17th birthday in 2014 when she first began UVI as an early admission student and scholarship recipient. Howell got accepted to UVI at the age of 16 and extrapolated what she now describes as the best four years of her life.
Howell defined her first encounters with UVI as challenging considering she was so young and many professors already knew who she was as she had just attended a summer semester in China where she learnt mandarin and Chinese history and culture.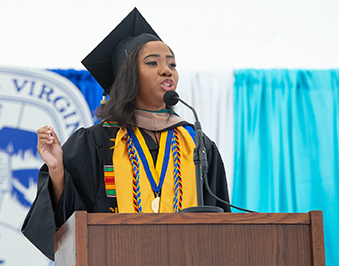 For Howell, she had to live up to the stigma of her early success especially when professors referred to her as a genius.
According to her, UVI was no walk in the park for her, she recalls having to re-do an accounting class after she got a C-.
Howell will be graduating magna cum laude on the Sheen Campus with a Bachelor of Arts in Accounting and an Associate's degree in Business Management, she will also be this year's class speaker at St. Croix's Commencement Ceremony.
She is definitely no stranger to business and accounting, she was one of the winners in this year's annual 13D entrepreneurship competition. Howell's app-development business, Style-Up, is a phone application for hair stylists and their customers to better manage appointments.
 Howell also completed a 10-week internship with Amazon.com in summer 2017, in Lakeland, Fla. landing her a full-time position as an area manager in Braselton, Ga. beginning in May 2018.
She accredits her success to UVI's endless opportunities for its students. She believes that attending an HBCU (Historically Black College and University) gives you more opportunities than most other universities.
Howell took advantage of every opportunity available to her. "UVI gave me job exposure, through the help of Ms. Lord I was able to complete three internships and subsequently land a position at Amazon," she said.
Howell hopes that her success story will inspire UVI students to accomplish great things and to be proud of the school they attend.
"This accomplishment positively impacts UVI because… people will know which university I attended and would be driven to find other students at my university who possess the same qualities," said Howell. "It will also help potential students consider UVI because they will realize that their opportunities are not limited."
Jose Perez: From the Military to Restaurant Management to a BSN
At 51-years-old Jose Perez will be one of the first generic students graduating with a Bachelor of Science in Nursing on the Albert A. Sheen Campus on St. Croix during this year's commencement ceremony.
Perez, whose journey began in the military, later entered the food service industry where he succeeded in management for many years. Originally from Connecticut, Perez decided to move to St. Croix and became enthralled with the island and found himself unexpectedly with a final career in nursing. Perez said he always thought about nursing but didn't pursue this goal until he moved to St. Croix four years ago and enrolled at UVI.
According to Jose, when he first moved to St. Croix he had a few options in mind about how he would occupy his time.
"I moved to St Croix for personal reasons, when I first came here I had a plan a, b and c," said Perez. "I looked into a frozen yogurt business, when I saw how much it would entail financially I decided it was too risky. With UVI being right down the street and newly offering BSNs it was an added bonus—I decided to make it my choice."
In 2015, Sen. Kurt Vialet sponsored a bill that provided the resources necessary to establish BNS on the Sheen Campus. Previously students were only able to earn an Associate's Degree in nursing and would have had to travel to St. Thomas achieve a BSN. Perez is excited to be one of the first students graduating from St. Croix with a BSN on May 18. According to Perez, he is looking forward to making a change in the life of his patients. He will graduate magna cum laude, an honor added to a degree or a diploma for work considered to be of much higher quality than average. 
"While in the military I learned a lot about responsibility, and strength of character," said Perez. "Nursing allows me to be of service on a higher level and gives me the opportunity to make a difference in people's life."
He describes his experience at UVI as fulfilling, he said the time was well spent and help was never too far away.
"UVI is amazing, whenever I needed help it was always immediately available," Perez said.
Jeanette Ferdinand: A Lesson in Balance and Student Leadership
Jeanette Ferdinand graduated from the St. Croix Educational Complex High School in 2012 thereafter she began her undergraduate studies at UVI where she first pursued an Associate's degree in Nursing.
Originally from St Croix, Ferdinand will be graduating with a Bachelor of Science in Nursing on May 18.
She said the nursing program has an added level of pressure as students have to earn a score of 75 or higher on each course. If students earned a low score the student would have to repeat the course. Unfortunately, Ferdinand's graduation was set back by one year as she had to re-take a course.
For Ferdinand, UVI was more of a journey than a challenge as she always managed to balance her extracurricular activities with her academic pursuits. The former student government association president became heavily involved on campus after she first worked with the Dean of Students on St. Croix in 2012.
She retired a life of just attending classes and picked up an extensive extra-curricular resumé at UVI which included the student government association, sisters with purpose, student nurses association and the student government association queen's committee.
Ferdinand assisted with the execution of the last three Miss UVI ambassadorial competitions, with the last two held on St. Croix. 
She credits much of her success to Hedda Finch-Simpson, whom she describes as family.
"Ms. Finch would encourage and push me to become involved on campus," said Ferdinand. "She was firstly my immediate supervisor but now she's become more like family than a boss to me."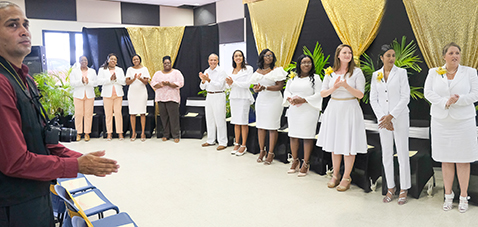 Immediately after graduation Jeanette will be traveling to New Jersey to take the National Council Licensure Examination (NCLEX RN) exam for entry level nurses then return to St. Croix where she will begin her nursing career at the Juan F. Luis hospital hopefully in the emergency room. 
Jeanette will be sharing her special day with her older brother Garfield Ferdinand who will be graduating with a Bachelor of Science in Mathematics. 
While at UVI Ferdinand earned many scholarships including, Thurgood Marshall College Fund (TMCF) scholarships from Costco, Wells Fargo, as well as Walmart Mentorship training.