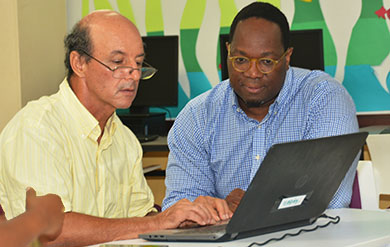 For two weeks, future computer science professionals learned the skills they will need to be on the frontlines of cyber-based attacks. In a world where technology is quickly advancing before our very eyes, the risk of facing cyberattacks has drastically increased. Acknowledging this growing issue, the Computer Science Department at the University of the Virgin Islands, held a cybersecurity workshop, offered by guest lecturer Dr. Michel Kinsy of Boston University.   In this workshop, students learned the intrinsic features of computer systems and the techniques that attackers use to send out cyberattacks to businesses or major corporations. As well as the defenses and practices, that can help to prevent cyberattacks from occurring. This workshop covered topics such as: return programming and vulnerabilities, assembly code and how to imbed malware into the assembly, and binary analysis.  
Real world examples such as, the Virgin Islands Police Department being faced with a ransomware cyberattack was brought into the discussion. Cyber attackers have blocked access to police files unless a ransom is paid.   In addition to, Dr. Kinsy made mention of national cyberattacks and stated that 10 to 15 years from now, "physical wars may be viewed as barbaric and 95 percent of attacks will be cyber related where rather than physically attacking another country or entity, you cripple their cyber infrastructure."  Being that cybersecurity is, interdisciplinary; Dr. Kinsy stressed to students the importance of math courses such as number theory, discrete mathematics, and linear algebra. As well as how early exposure to cybersecurity "can help to highlight the core classes that form the fundamentals of cybersecurity." 
Dr.  Marc Boumedine, chair and associate professor of Computer Science at UVI and Dr. Kinsy have been working together for a number of years with students majoring in computer science at the university. Many of these students have gone on to conduct research at laboratories, such as; the Adaptive & Secure Computing Systems Laboratory (ASCS), Sandia National Laboratories, and Lawrence National Laboratory with support of a grant from the Department of Energy National Nuclear Labs and Lawrence National Laboratory with support from the Department of Energy National Nuclear Security Administration Minority Serving Partnership Initiative. 
 Additionally, some students have successfully enrolled in graduate programs. Miguel Mark, a 2014 computer science graduate from UVI and a former participant of the cybersecurity workshop, is currently a Ph.D. candidate majoring in Computer Science at Boston University. Troi William also graduated with a bachelor of computer science in 2011 from UVI.  He is currently completing his Ph. D. at the University of South Florida. 
Dr. Kinsy received his Ph.D. in Electrical Engineering and Computer Science from the Massachusetts Institute of Technology (MIT) in 2013 where he is currently an MIT Presidential Fellow.  In his doctoral work, he was one of the first to develop algorithms and hardware techniques to emulate and control large-scale power systems at the microsecond resolution. This work has been continued by the MIT spin-off, Typhoon HIL, Inc. Dr. Kinsey holds a Master of Science in Electrical Engineering and Computer Science from MIT, a Bachelor of Science in Computer Systems Engineering and a Bachelor of Science in Computer Science from Arizona State University. 
The overall goal of this workshop is to inspire students to see themselves playing an integral role in the Virgin Islands community in terms of making it more secure, as well as the rest of the world whether they choose to pursue careers in computer science, cybersecurity, or branch fields of study.  
For more information contact:

Public Relations Office 
Phone: (340) 693-1057 
Email: pr@uvi.edu