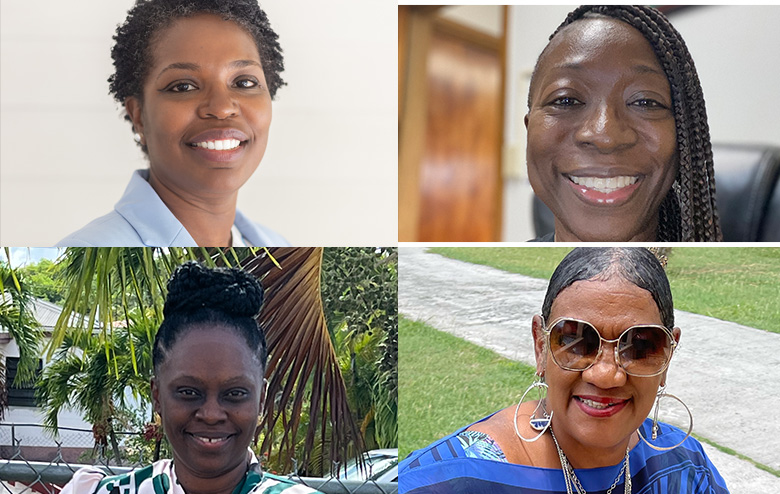 The University of the Virgin Islands (UVI) is pleased to announce that four faculty members have been promoted and/or awarded tenure. At the last Board meeting held on June 18, Dr. Karen Brown (School of Education), Dr. Sharon Honore (College of Liberal Arts and Social Sciences), Dr. Barbara Flemming (School of Business), and Dr. Nadia Monrose Mills (College of Science and Mathematics), were granted tenure, effective Aug. 1, 2022, in recognition of their commitment to teaching, scholarship, and service.
"It is my pleasure to publicly congratulate these outstanding faculty members, who have consistently demonstrated excellence in their scholarly pursuits, research, instruction, and commitment to UVI and our students," stated UVI President, Dr. David Hall. "As authorities in their respective disciplines, they are an invaluable resource to our students and the entire community."
"These highly capable faculty should be recognized not only for their important contributions but also as role models who influence future generations of female and minority students and academic leaders," said Dr. Camille McKayle, provost and vice president of academic affairs. "I am proud to have them on our faculty and to support their academic ambitions."
Dr. Karen Brown / Promoted to Professor of Education with Tenure
Dr. Karen Brown is dean of the UVI School of Education and has almost 20 years of experience in higher education. She holds a doctorate in Special Education with a concentration in Curriculum and Instruction, Master of Science in Speech-Language Pathology and a master's degree in Public Health. Her Bachelor of Science degree is in Speech Communication, and she is a licensed speech-language pathologist. Dr. Brown's research interests include sociocultural perspectives related to disability and disparities in early identification of and intervention for children with and at-risk for developmental delays. She is a recipient of the UVI President's Appreciation Award in recognition of her dedicated service to the vision of innovative early childhood education through the establishment of the UVI Inclusive Childcare Lab and Diagnostic Center. Dr. Brown is a Virgin Islander educated in the territory's public school system.
Dr. Sharon Albert Honore / Tenure Awarded
Dr. Sharon Honore is associate professor in the Department of Communication and Performing Arts at UVI. She is the mass communication internship faculty advisor for the UVI Association of Black Journalists, the first and only student chapter in the Caribbean and affiliate to the National Association of Black Journalists. Honore is the first African American to earn a Doctor of Philosophy in mass communications from the University of Iowa (UI). She also holds a Master of Arts (Humanities, African American World Studies) from UI as well as Master of Arts and Bachelor of Arts degrees (Communications, Mass Communications respectively) from Southern University A&M College in Baton Rouge, La. Honore has worked for more than 25 years on the college level as faculty member and chair of mass media at various colleges and universities.
Dr. Barbara Flemming / Promoted to Associate Professor of Management with Tenure
Upon joining the UVI School of Business in 2015, Dr. Barbara Armstrong-Flemming served as an Assistant Professor of Management and has been promoted to Associate Professor of Management. She received her bachelor's degree in Business Administration with honors from UVI in 1995; both master's degrees in business management and Human Resource Management with honors from the American Intercontinental University, Buckhead, Ga. in 2006; and a doctorate in Organization and Management with a specialization in Human Resources from Capella University in 2015. Dr. Flemming is an active member of the Institute of Management Consultants USA and the Society of Human Resource Management.
Dr. Nadia Monrose Mills / Promoted to Associate Professor of Mathematics with Tenure
Dr. Nadia Monrose Mills is a STEM education researcher whose current research agenda lies in mathematics teaching and learning, and STEM teacher professional development. In her research on mathematics teaching and learning, she studies the effects of active learning interventions on STEM students' non-cognitive factors such as mathematics self-efficacy, mathematics anxiety, and sense of belonging. In her research on STEM teacher professional development, she directs the STEM Institute, which provides professional development to middle and high school STEM teachers to strengthen the STEM workforce in the Virgin Islands. In this capacity, she partners with local and national researchers and businesses to design and implement a professional development model that includes a summer workshop and yearlong support and trainings.
For more information, contact pr@uvi.edu.