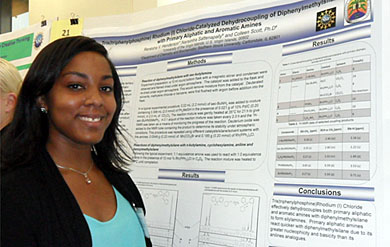 Their research stretched from the ocean depths off Savannah, Ga., to home waters in the U.S. and British Virgin Islands, from the far reaches of the solar system to forests in the Virgin Islands National Park, and from the Brookhaven National Laboratory in New York to the University of Colorado.
UVI chemistry major Renesha Henderson, shown here, made a presentation at the Fall Science Symposium in 2012 which earned her a trip to the National Science Foundation's ERN Conference in Washington D.C. She graduated this past May. UVI highlights student research with three symposia each year. Fall and summer sessions are held on St. Thomas and a spring session takes place on St. Croix.
In all, some 37 UVI undergraduate students, representing both campuses, spent much of the past summer researching a remarkable range of subjects in science, technology, engineering and mathematics. Now they are putting the final touches on presentations designed to best describe their findings.
These presentations will be revealed to the public at the University's 15th Annual Fall Student Research Symposium from 1 to 3 p.m. on Sunday, Sept. 29. The symposium, which is free and open to the public, will take place in UVI's Administration and Conference Center on the St. Thomas Campus. It is designed to showcase the excellence and diversity of UVI student research and increase awareness of student research opportunities.
A sampling of research subjects to be presented includes: the feeding habits of sea urchins, screening for toxins in lionfish, updating the analytical chemistry curriculum, deriving higher quantity DNA from white mangroves, data analysis using Visual Basic, computer-based weather monitoring agents, astrophysics research, and the correlation between humans and water quality. Event organizers encourage faculty, staff, students, family, friends, and the community to attend and show their support.
In addition to the University of the Virgin Islands, other institutions that hosted UVI student researchers were: Boston University, Marshall University in West Virginia, Savannah State University, the University of Puerto Rico-Rio Piedras, the University of Notre Dame and Michigan State University. Affiliated organizations that supported their research included: Pennsylvania State University, Arkansas State University, the National Park Service, the U.S. Department of Energy, VI-EPSCoR, and UVI's Etelman Observatory and Water Resources Research Institute.
The students' presentations will be evaluated by a panel of judges focusing on visual presentation, research content, oral presentation and the students' ability to answer questions. The judges will provide individual scores and provide direct feedback to the students. The first-, second- and third-place finishers will receive certificates at UVI's Spring Academic Awards Ceremony.
Students whose presentations are exceptional may be offered travel awards funded by a National Science Foundation HBCU-UP (Historically Black Colleges and Universities Undergraduate Program) grant. This grant allows students to present their research at a national research conference. Nine UVI students who presented research at last year's Fall Symposium were selected for fully funded travel awards to present their findings at the Emerging Researchers National Conference in STEM in Washington D.C. this past February. They were accompanied by UVI science professor Dr. Robert Stolz and UVI Interim Provost Dr. Camille McKayle.
The symposium is organized by the University's Emerging Caribbean Scientists (ECS) Programs and the College of Science and Mathematics, with sponsorship from the National Science Foundation, the National Institutes of Health and other donors. ECS Programs at UVI are designed to increase research training and promote excellence for students majoring in STEM subjects – science, technology, engineering and mathematics – psychology and nursing.
For more information, call Aimee Sanchez at (340) 693-1249 or send e-mail to aimee.sanchez@uvi.edu. Details about the upcoming symposium, as well as abstract booklets from previous symposia, are available from the Emerging Caribbean Scientists website under the "Research" tab on the UVI website – http://www.uvi.edu.