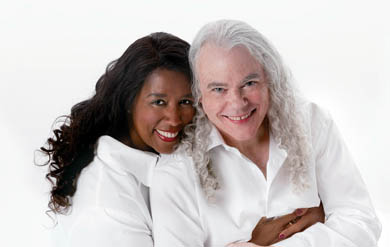 The Reichhold Center for the Arts presents Tuck and Patti in a live jazz performance that is sure to soothe the soul at 8 p.m. on Saturday, May 10. After nearly three decades of making music together the jazz duo – Tuck Andress, guitar, and Patti Cathcart's, vocals – still blends smoothly into a finely honed sound all their own.
Join Reichhold as Tuck and Patti perform their own compositions, such as "High Heel Blues," jazz standards like "Can't Take That Away From Me," modern classics like Stevie Wonder's "I Wish" and oldie's like Cyndi Lauper's hit "Time After Time." This duo has captured the hearts of lovers and the respect of jazz buffs worldwide. Gates open at 7 p.m.
For more information about Tuck and Patti's performance, and sponsorship opportunities, contact Ian M. Turnbull, Reichhold's marketing and sales manager at ian.turnbull@uvi.edu or (340) 693-1554.  To purchase tickets, visit www.reichholdcenter.com or contact the Reichhold Box Office at (340) 693-1559. Group discounts are available.